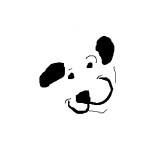 In this issue:
Your Special Offer
Changing Food to Improve Performance
Gain an Hour and Turn Back Time
Monthly Features
New Products
Treat of the Month
As the end of the year draws near and some of our thoughts begin to drift towards the holidays, you're invited to bring some joy to your friends by sharing a Gift Certificate with them. This popular program is being repeated as your special subscriber offer this month. It's a simple and no-cost way for you to show appreciation and thanks to your friends.
We've begun testing two new CBD supplements this month, including the one from Diggin' Your Dog that you'll find listed below in the New Products section. If you've been curious about CBD supplements and would like to share your experience or have a conversation about your options, just let us know.
YOUR SPECIAL OFFER
Get a Jump on Your Holiday Gifts- for free!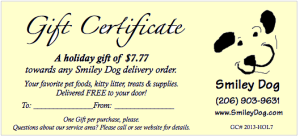 It's getting to be that time of year again, and we'd like to help you get a jump on some goodwill for your friends.
From now through the end of the year, you can play Santa and hand out $7.77 Gift Certificates to 7 of your friends. Simply ask for your free Gift Certificates when you place your next order, or request that they be mailed directly to you.
Once you receive them, be sure to fill in your name on the Gift Certificate on the space provided so we can provide you with a special Thank You once they've been redeemed!
NEWS
Changing Food to Improve Performance
It's not unusual for dogs to begin reacting differently to a food that's been fed for an extended period of time. Our dogs will often begin to exhibit signs of this long before we notice since the rhythm of our own routine has not changed.
Itching and scratching are often the first indications that a food is not performing as it once did. Some questions to ask when this is first observed include:
is this flea related
has this happened previously
has there been a change in environment, diet or stress
can it be possibly be related to a medical condition
In rare cases, itching and scratching can be reflective of a food allergy, but is far more likely to be a food intolerance or environmental sensitivity. Food allergies can be notoriously difficult to diagnose and address. Read more…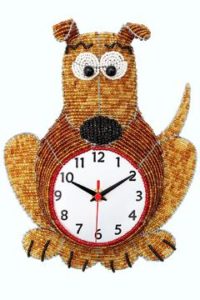 Gain an Extra Hour This Weekend
It's that time of year when we can consider ourselves Time Travelers by turning back time!
Daylight Savings Time ends on Sunday, Nov. 5. Be sure to turn your clocks back one hour on Saturday night or Sunday morning or you'll be running late for the rest of the day!
FEATURES of the MONTH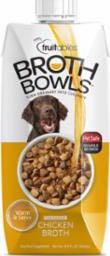 There's a small supply of these tasty toppers remaining from the October Treat of the Month. While supplies last, purchase one at regular price ($4.25) and receive a 2nd at half price. Regular 2 for $8.50, now 2 for $6.25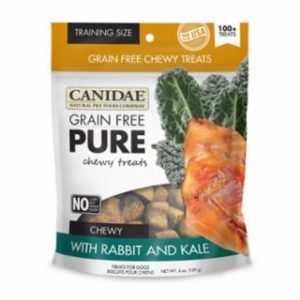 Pick up a package of these chewy treats at a very special price this month. These oven-baked treats are grain-free and contain just 3 calories each. Ideal of training or treating for dogs of all sizes.
6 oz package Regular $8.75, now $6.50
These dehydrated turkey treats are ideal for both dogs and cats. They contain vegetarian fed, certified humanely raised Turkey, free from antibiotics and hormones, garbanzo beans, molasses, sunflower lecithin, sea salt mixed tocopherols and rosemary extract.
4.5 oz bag Regular $9.75, now $7.75
Rad Cat Raw Chicken or Turkey- save 15%
If you've considered feeding your cat a raw diet, now is a great time to take advantage of special pricing on these 16 oz containers of Rad Cat Raw Chicken or Turkey dinners. Each is made with free-range meats and is packaged in a re-closable plastic tub.
16 oz tub Regular $11.75, now $10.00
NEW ITEMS
Inventory Updates
Each month as our clients' needs change, our inventory gets adjusted to meet those needs. Here are some of the new items added recently that can now be found in the Smiley Dog shop:
Rad Cat Raw Pork
Diggin' Your Dog Full Spectrum CBD supplement
Grandma Lucy's Organic Blueberry biscuits
Grandma Lucy's Artisan Bison
NutriSource Rabbit treats
TREAT of the MONTH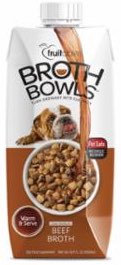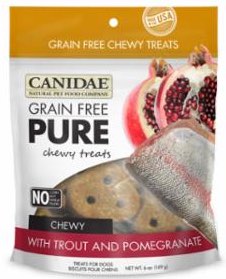 Surf & Turf- save 35% on Fruitables Beef Broth and Canidae Trout treats
Another tasty duo of treats make up the November Treat of the Month!
Enjoy a 17 oz container of Fruitables Beef Broth Bowl topper, along with a 6 oz package of Canidae Trout & Pomegranate biscuits. This combination is sure to please even the fussiest canine.
Use the Broth Bowl topper over kibble to add an enticing flavor to the daily routine. The Canidae biscuits are a low-fat, chewy grain-free treat made in the USA.
Regular Price: $13.00 Club Price: $8.50
Interested in the special pricing on these treats? Become a Treat of the Month Club member- it's free! Just email us or mention it with your next order to sign up. Each month that you receive a delivery, the featured treat will automatically be added to your order. You'll save a minimum of 10% each time, and treats are no more than $8.75.