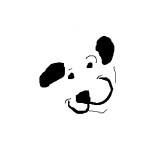 In this issue:
Your Special Offer
Honest Kitchen's Un-Canny Travel Tool
Going a Round with Rotational Diets
Monthly Features
New Products
Treat of the Month
Happy Spring!
It's been a long, wet winter but better weather is just around the corner and thoughts may be turning to travel. Your newsletter offer may help a bit with a planned trip, or just serve as an introduction to a handy feeding alternative.
We're looking forward to the start of this year's Seattle International Film Festival, and will be sure to share with you any animal-themed films that may be of interest to you. If you were among those who were disappointed by the cancellation of our private screening of Pet Fooled earlier this year, you can now catch it on Netflix.
YOUR SPECIAL OFFER
Ask for your FREE Honest Kitchen Single Serve cup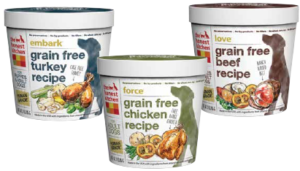 You'll notice below that the new Honest Kitchen cups are available at a special price month and include a $5 coupon. This essentially makes them free for anyone who uses that coupon for a future purchase.
As an eMuse subscriber, you can get a free Honest Kitchen cup. Just ask for your choice of flavors and it will be included at no charge with your next order. Yes, it will still include that $5 coupon on a future purchase. But it starts out free for you, whether you use the coupon on a larger size or not.
The grain-free cups are available in your choice of Beef, Chicken or Turkey. Just ask for the eMuse special and let us know your flavor preference when your order it placed.
And don't despair if your household hosts only felines. You're still entitled to an eMuse offer. Instead of a free Honest Kitchen cup, you'll receive a free can of Tiki Cat Aloha Friends cat food.
Thanks for being an eMuse subscriber!
NEWS
Honest Kitchen's Un-Canny Travel Tool
For nature lovers, there's nothing quite like a solitary walk in the woods. In a quiet and pristine setting, a glance in any direction is its own reward as the surrounding symphony constantly changes.
The only thing which can improve this experience is having a faithful 4-footed friend by your side- something that is prohibited on many National Park trails.
But there are plenty of trips and trails which welcome pets. Read more…
Going a Round with Rotational Diets
When someone tells you they know the "best" way for you to feed your pet, do your eyebrows arch in skepticism? Ask around and you're likely to get as many answers as people you approach.
While many pet parents prefer to find a food that "works" and stick with it until it doesn't, there are other alternatives to consider, like rotational feeding.
Rotational feeding is based on a simple premise. Every pet food formula derives much of its nutritional value from the protein content of the food. The majority of this protein content comes from the meat used in the food.
Meat protein contains a combination of different amino acids. Different meats contain a different variety and balance of amino acids. Read more….
FEATURES of the MONTH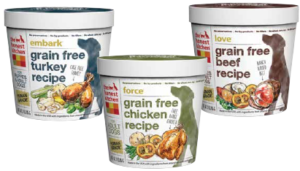 Save $1 on any or all single serve Honest Kitchen cups this month. Each cup includes a $5 coupon which can be used for any 3 lb or larger box of Honest Kitchen formulas.
Use the coupon on a future purchase and you end up saving twice- you recoup your purchase price of the cup and save a few bucks on the box!
Honest Kitchen cups are available in grain-free Chicken, Turkey or Beef formulas. Just add warm water to the cup and stir. Let it sit for a few minutes and you've got a complete meal for a 20 lb dog. Read more about these handy Honest Kitchen single serve cups here. Regular $3.75, now $2.75
If you've been considering a rotational feeding approach, now's a great time to get started with this promotional offer from AvoDerm. Available in 4 formulas for all dogs and 3 formulas for Small Breeds, these grain-free diets make changing your dog's protein easy and trouble free.
All 4 lb bags of Revolving Menu formulas can be pre-ordered for $12.75 each. Orders must be placed before May 31, 2017 and will be delivered by June 15 unless you prefer a later delivery date.
Adult formulas available in Duck, Turkey, Trout, and Lamb. Small Breed formulas available in Beef, Turkey and Lamb. 4 lb bag Regular $18.75, now $12,75 if pre-ordered by May 31, 2017.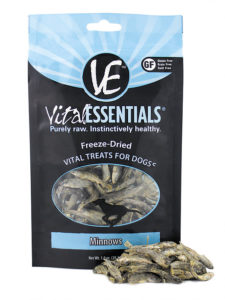 A quick & crunchy treat for dogs and cats alike, these single ingredient snacks contain just what you expect and no more— freeze dried minnows! Low in fat (5%) but high in protein (60%) these small bites are great for a special treat, reward or training. The packaging claims these are treats for dogs, but don't let that fool you. Cats love them too! 1 oz package Regular $8.50, now $7.00
NEW ITEMS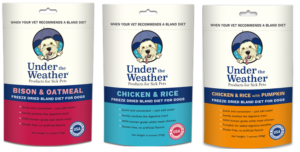 Every pet parent will eventually have to deal with some sort of digestive issue, vomiting or diarrhea. The accepted remedy for this is usually a bland diet for a few days, often consisting of boiled meat and white rice.
Now there's Under the Weather, a ready made, freeze-dried alternative to shopping for and preparing those occasional bland meals. Under the Weather is available in 3 formulas- Chicken & Rice, Chicken, Rice & Pumpkin and Bison & Oatmeal. Simply place the dehydrated formula in your pet's bowl, add an equal amount of boiling water, and let stand until cool.
All ingredients are shelf-stable so packages can be stored and kept on hand until needed. Each package makes 2 meals for a large dog or up to 4 servings for smaller pets. 7 oz package- $11.75.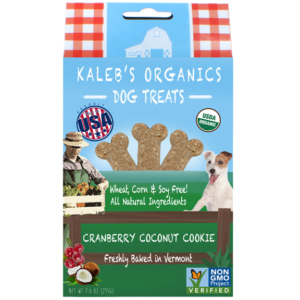 Carefully crafted in Vermont, these cookies are certified GMO-free and contain only Organic Barley Flour, Organic Barley Flakes, Organic Cranberries, Organic Coconut, and Organic Sunflower Seeds  7.6 oz box- $8.50
TREAT of the MONTH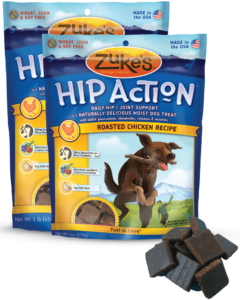 Zuke's Hip Action Chicken Treats- save 21%
Zuke's Hip Action treats are chewy, roasted chicken flavored treats which also help support hip and joint function. Each chewy square contains 300mg glucosamine and 50mg chondroitin.
Ingredients: Chicken, Ground Rice, Ground Oats, Malted Barley, Gelatin, Maple Syrup, Vegetable Glycerine, Glucosamine Hydrochloride, Cherries, Blueberries, Lecithin, Salt, Ground Sesame Seed, Alfalfa, Phosphoric Acid, Rosemary, Turmeric, Garlic Powder, Sorbic Acid, Ascorbic Acid, Egg Shell Meal, Chondroitin Sulfate, Zinc Sulfate, Manganese Sulfate, Sodium Selenite, Vitamin E Supplement. 6 oz bag Regular Price: $9.50 Club Price: $7.50
Interested in the special pricing on these treats? Become a Treat of the Month Club member- it's free! Just email us or mention it with your next order to sign up. Each month that you receive a delivery, the featured treat will automatically be added to your order. You'll save a minimum of 10% each time, and treats are no more than $8.00.