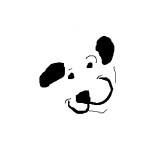 In this issue:
Your Special Offer
Is Fasting for Dogs Sensible or Starvation
Some Precise Foods Remain Unavailable
SuperZoo Is Earlier This Year
Monthly Features
New Products
Treat of the Month
June is the month when you get birthday goodies! Be sure to take advantage of this month's subscriber offer below.
This month also brings a new schedule for SuperZoo, the annual Pet Industry Trade Show. The show has traditionally been held in July and now takes place at the end of this month. If you have questions for manufacturers or are trying to track down an elusive product, please let us know. We'll do our best to sniff out answers for you during our time there.
YOUR SPECIAL OFFER

Free Goodies for My Birthday
June is my birthday month and once again you get the gift!
Just ask for the eMuse offer with your order this month and receive a free cat or dog goodie at no extra charge.
Will it be a treat, a toy or a tasty tidbit to add some extra excitement to mealtime? Only one to find out- ask for your eMuse offer when you order this month!
NEWS
Is Fasting For Dogs Sensible or Starvation?
Do you feel guilty when your dog's regular feeding routine is disrupted by your crazy schedule? Maybe you're running late for an important morning appointment or just can't drag yourself out of bed after a long, hard day.
You've likely been met with pleading eyes or impatient tail thumping in anticipation of breakfast.
Relax.
You may be doing your dog a favor without even knowing it. Read more…
Some Precise Pet Foods Remain Unavailable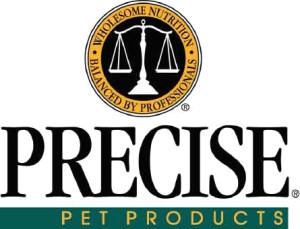 Manufacturing changes and supply issues continue to keep some dry and canned formulas of Precise unavailable.
The Senior and Holistic Complete Senior formulas remain unavailable, along with Chicken, Mixed Grill and Turkey Feline cans.
The company has discontinued its Holistic Complete Chicken cat formula, and is recommending the grain-free Holistic Complete Turkey/ Chicken as a replacement.
We plan to speak to the company at SuperZoo at the end of the month to learn when supplies are expected to be reliably available once again.
SuperZoo is Earlier This Year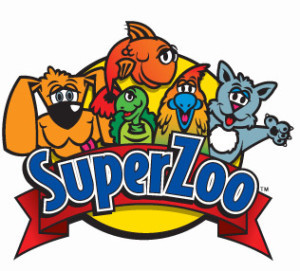 It's getting close to the time for a trek to Las Vegas for SuperZoo. The annual Pet Industry Trade Show is being held a few weeks earlier this year, from June 25-28.
SuperZoo brings more than 1000 vendors to the show floor, with a new exhibit hall added to the show layout this year.
The show is your opportunity to have us be your representative to speak with manufacturers or track down an elusive product.
Please let us know if there's anything you'd like us to put on our list to research during the trip. We'll be happy to sniff out whatever answers or information you're after.
FEATURES of the MONTH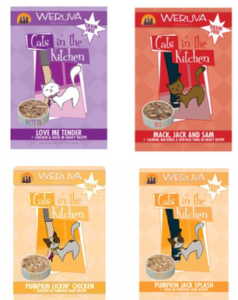 Treat your kitty to 4 tasty flavors with this specially priced variety assortment. The sampler contains two 3 oz pouches of four different flavors- Love Me Tender, Mack Jack & Sam, Pumpkin Jack Splash and Pumpkin Lickin' Chicken.
8- 3 oz pouches Regular $12.80, now $9.75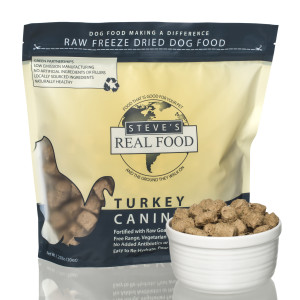 Take advantage of a special purchase to save on this convenient, lightweight freeze-dried raw food while supplies last. Ideal for traveling or crumbled over any other meal.
1.25 lb Steve's Freeze-Dried Turkey Dinner Regular $36.75, now $29.50

In honor of the beginning of summer, a selection of water toys are available at special savings this month while supplies last! What makes a dog toy a water toy? It floats! Choose from the original Cool Kong, Kong Retrieval dummy in 2 sizes, Bionic Toys, Hurleys and Boz.
Cool Kong– Regular $14.50 ; now $12.33
Large Kong Retrieval Dummy– Regular $12.75 ; now $10.84
Xtra Large Kong Retrieval Dummy– Regular $14.75 ; now $12.54
Small Hurley– Regular $10.50 ; now $8.93
Large Hurley– Regular $14.75 ; now $12.54
Small Bionic Bone– Regular $8.75 ; now $7.44
Medium Bionic Bone– Regular $13.75 ; now $11.69
Large Bionic Bone– Regular $18.75 ; now $15.94
Mini Bionic Toss 'n Tug– Regular $10.75 ; now $9.14
Small Boz– Regular $11.75 ; now $9.99
Large Boz– Regular $16.75 ; now $14.24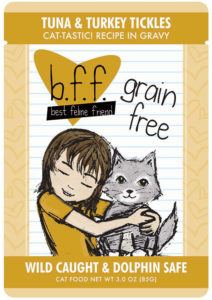 Since our feline friends likely won't appreciate water toys, why not treat them to a tasty new meal with special pricing on BFF Grain-Free Turkey & Tuna Tickles cat food? Like this idea? Save even more with the purchase of a full case of 12 pouches!
3 oz BFF Tuna/ Turkey Tickles cat food– Regular $1.35; now $1.15
Full case of 12/ 3 oz pouches– Regular $15.75; now $12.75
NEW ITEMS
Inventory Updates
Each month as clients' food needs change, our inventory gets adjusted to meet those needs. Here are some of the new foods added over the past months that can now be found in the Smiley Dog shop:
Merrick Grain Free Turkey
Nature's Variety Ultimate Protein cat
Precise Holistic Complete Duck/ Turkey
Fromm Beef Frittata
TREAT of the MONTH
Himalayan Blueberry and Peanut Butter Pop Bits- save 25%
Your dog will enjoy this pair of lightweight treats made with Lotus Flower Seed, also known as Fox Nut, in 2 delicious flavors. These all-natural roasted treats contain less than 1/2 calorie per piece, and may remind you of popcorn.
Fox Nut is a staple of human diets in India. It is high in protein, vitamins, minerals and anti-oxidants.
4 oz Peanut Butter Pop Bits PLUS 4 oz Blueberry Pop Bits Regular Price: $10.00 Club Price: $7.50
Interested in the special pricing on these treats? Become a Treat of the Month Club member- it's free! Just email us or mention it with your next order to sign up. Each month that you receive a delivery, the featured treat will automatically be added to your order. You'll save a minimum of 10% each time, and treats are no more than $8.75.