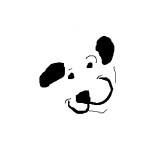 In this issue:
Your Special Offer
Pet Fooled Film is Now a Fund Raiser
All the President's Pets
Monthly Features
New Products
Treat of the Month
Black Friday is in the rear window. Cyber Monday is history although some have stretched it into CyberWeek. The frenzy of holiday shopping has descended upon mailboxes and advertising, but who cares? Take a deep breath and relax with the knowledge that this month's Smiley Dog Features are available until the end of December, or until they're gone. No artificial countdown clocks here- sniff around at your leisure!
We're pleased to announce Summit Assistance Dogs and COLA will receive a portion of their ticket sales for the screening of Pet Fooled on Jan. 5, 2017. The film will be shown if 60 reservations are made before Dec. 19, 2016. Take a moment to make your reservations now to ensure the screening gets scheduled- you won't be charged for your ticket until the magic number of 60 reservations is reached!
Last month's Features are carrying over to this month, along with some tempting new treats and toys for your holiday enjoyment. The special pricing on the December Features are limited to stock on hand, so if you see something intriguing, grab it quickly to avoid disappointment.
This month's additions were carefully chosen to give you some inexpensive stocking stuffer options- enjoy!
YOUR SPECIAL OFFER
Ask for a Holiday Freebie with Your Next Order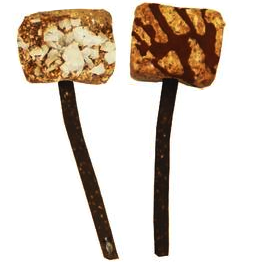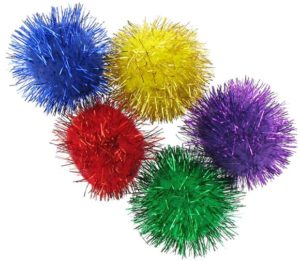 To help us all enjoy the holiday spirit, why not have a little extra something added to your order this month? Just ask for an eMuse Holiday Freebie when you place your order.
You'll receive either a Buddy Pop or Tabby Tinsel included as a goodwill gift with your delivery.  Just a small token to help usher out the old year and get the New Year started with a smile!
NEWS
Pet Fooled- A Film for All Pet Parents is now a fund raiser!
Resolve to start the New Year off right!
Join us on Thursday, January 5, 2017 at 7:30pm for a one-night only screening of the new film, Pet Fooled at AMC Alderwood 16 in Lynnwood, WA (Alderwood Mall). This screening is also raising money for Summit Assistance Dogs and Citizens for Off-Leash Areas (COLA).
60 reservations are needed to ensure the screening happens. Why not make your reservation now to help bring this informative feature to local pet lovers.
Pet Fooled is a new documentary film that examines the business behind the pet food industry. It takes a balanced approach, presenting different types of feeding styles. The veterinary perspective is present throughout, along with some historical context and case studies.
You can be among the first in the country to see and benefit from this informative documentary. Read more…
All the President's Pets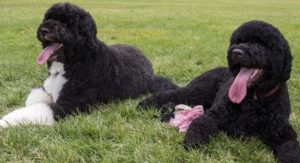 Now that the election is behind us, one thing is certain. Come January 20, 2017, Bo and Sunny, the current 4-legged oval office residents will be moving out.
Will another pet be moving in? And if so, will it follow in the mold of recent canines and felines, or revisit some of the more unconventional pets of the past? Time will tell.
Presidential pets have a long and varied history. Most of us are familiar with the dogs and cats who occupied the White House in the past decade or two. But it was the earlier presidents who livened up the White House grounds with some unconventional pets.
Here's a look at some of the more unusual presidential pets that have been privileged to reside or roam the White House grounds. Take a deep breath and enjoy! Read more…
FEATURES of the MONTH

Two ridiculously cute, all-natural and completely edible Buddy Pops in a holiday package for your very special friends. Yes, even the stick is edible. You may be tempted to take a little nibble yourself.  Regular Price: $8.75; now $7.88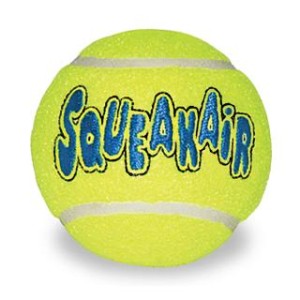 What's better for a dog than a tennis ball? A tennis ball that squeaks! Grab a few for yourself and a friend at a price you won't find after the holidays. Regular $2.00, now $1.50 each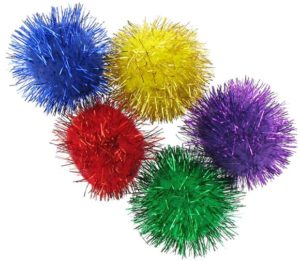 A long time favorite of felines across the land, these squishy lightweight balls are often hoarded by cats and couches alike. Pick up a handful at this month's special price. Regular $0.75 each, now 6 for $3.50
Flexible non-toxic rubber toy can be filled with your dog's favorite treat. Choose from 6 inch Red or 4 inch Green bulb.
6 inch Red Bulb– regular $15.75, now $13.50
4 inch Green bulb– regular $10.75, now $9.25
Choose from Beef or Chicken broth to use as a topper for kibble meals. Broth Bowls are made in the USA and contain just 2 calories per ounce. They are ideal for finicky eaters or to add more moisture and soften dry foods. 16.9 oz- Regular $4.25; now $3.85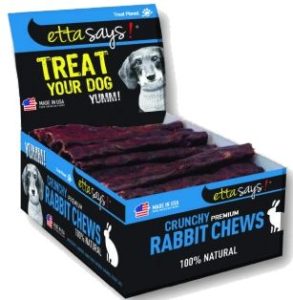 6 inch crunchy chews made in the USA with no artificial fillers, colors or preservatives. Regular $1.50 each, now 2 for $1.50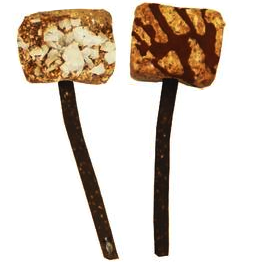 A perfect stocking stuffer sure to please the fussiest dog! These bite-sized, all-natural treats are suitable for sharing or hoarding.  Choose from Peanut Butter or Coconut Carob. Regular $3.50 each, now $3.00
Peanut Butter Pop Ingredients:
Peanut Butter, Apple Sauce, Chia Seed, Honey, Coconut Flake, Coconut Flour, Garbanzo Bean Flour, Cellulose, Molasses, Ascorbic Acid, Apple Cider Vinegar, Vanilla
Coconut Carob Pop Ingredients:
Oats, Apple Sauce, Coconut Flour, Chia Seed, Coconut Flake, Honey, Molasses, Rice Syrup, Ascorbic Acid, Carob, Apple Cider Vinegar, Rye, Dried Apple, Triticale, Barley, Cinnamon, Bran, Flaxseed
Stick ingredients:
Sweet Potato Puree, Coconut Flour, Honey, Chia Seed, Apple Cider Vinegar, Acacia Gum, Molasses, Coconut Oil, Psyllum Husk, Tapioca Flour, Gelatin, Magnesium Oxide, Carob, Arrow Root Powder, Coconut Flake, Ascorbic Acid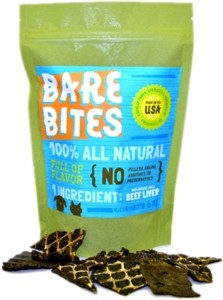 Enjoy a 2 oz. package of dehydrated beef liver treats. Just one ingredient- beef liver- make these treats ideal for all pets. Can be used for training, treating, or topping a meal. Regular $5.75, now $4.60
Some of the more interesting treats discovered late this year!  These dried fish skins are hand rolled and dehydrated by a small company in Boston. The Cod is sourced from local fisherman on small boats in Alaska. The haddock is sustainably sourced in Nova Scotia.
4.7oz (tube) Cod Skin– Regular $14.75, now $12.50
2 oz (tube) Haddock Skin– Regular $10.75, now $9.25
Single Cod Skin (bulk)–  Regular $1.00 each, now $0.85 each
NEW ITEMS
Tucker's Carnibars
These exciting new products were introduced at SuperZoo this summer, and are now just becoming available.
Carnibars are a complete meal in convenient bar form at an affordable price. Each limited ingredient bat contains no preservatives and is the dehydrated equivalent of a Tucker's raw food formula. The bars need no refrigeration and each serves as a full meal for a 25 lb dog. These are ideal for traveling and can also be used as a topper on kibble or canned meals.
Two formulas are now available with two more to become available soon:
Tucker's Pork, Bison & Pumpkin Carnibar- $3.75
Tucker's Beef & Pumpkin Carnibar- $3.75
Coming soon: Chicken/Pumpkin and Pork/ Lamb/Pumpkin bars

A crunchy treat which combines Greek Yogurt with Strawberries, and Pumpkin Granola. These treats smell so good you may be tempted to try them yourself, and you can! Less than 8 calories per treat so they can be fed without guilt. 7 oz package contains approximately 90 treats- $6.50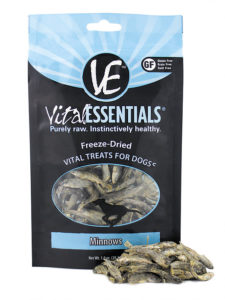 Most pets love fish, and these freeze dried, crunchy minnows should be no exception. Nothing added, just high protein, low fat freeze-dried fish make this an ideal treat or topper for cats or dogs. 1 oz. package- $8.25
Another grain-free flavor favorite in the trademark bear shape from Buddy Biscuits. These Peanut Butter cookies use no sugar, salt or soy and come in a generous 14 oz box. $7.25
TREAT of the MONTH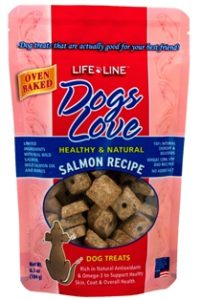 Oven-baked, crunchy square treats are made with just 10 ingredients. These treats come from our friends across the Sound at Lifeline Pet Nutrition in Gig Harbor, WA. You'll smell the goodness when opening the bag, and your dog will benefit from the healthy Wild Salmon, Salmon Oil and fruits. 6 oz. bag Regular $7.25, Club price $5.75
Interested in the special pricing on these treats? Become a Treat of the Month Club member- it's free! Just email us or mention it with your next order to sign up. Each month that you receive a delivery, the featured treat will automatically be added to your order. You'll save a minimum of 10% each time, and treats are no more than $8.00.