In this issue: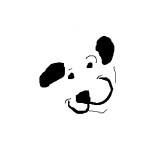 Your special offer- Buy One, Get One Texas Toothpick treat
Woofstock 2011
Silent Auction Sneak Peek
Make Your Own Dog Treats
Diseases You Can Get from Pets
Behavior Problems Linked to Early Separation from Litter
Whole Dog Journal's Annual Canned Food Review
Monthly Features
Greetings-
November! Really? Already. That means we're just one month away from Woofstock!
If you're a STAR Member and plan to attend Woofstock, we'd like to hear from you. We have a special treat awaiting your arrival to make your visit just a bit more Smiley!
YOUR SPECIAL OFFER
Your special offer this month is a Buy One, Get One Free Texas Toothpick! These puffed beef tails are high in protein, low in fat, and should be an intriguingly tasty treat for your pooch.
These treats are featured this month at 15% off, but your offer is clearly better. Because you're special!
Be sure to mention eMuse when requesting this offer.
NEWS
Woofstock 2011 is Saturday, Dec. 3
We hope you can join us for this year's annual Open House!
We've assembled a fun group of reps for your enjoyment this year. Your favorites and new vendors will be on hand for photos, massage, nail clips and education. You can also count on some great deals, new products, samples, and our Prize Wheel.
You'll be receiving a postcard later this month as a reminder. Be sure to bring it with you to enter a special drawing for one of 3 great prices.
Two ways to earn a Free Prize Wheel spin this year- Sign up for Auto-Delivery or bring a friend with you. Auto-Delivery sign-ups at Woofstock receive $7 off their first auto-delivery order. Thinking about Auto-Delivery but can't make it to Woofstock? Sign up between now and Dec. 3 and receive the same $7 "bonus" off your first scheduled delivery.
Learn more about what's in store on our Woofstock page.
Silent Auction to Benefit PAWS
We're pleased to host a Silent Auction as part of Woofstock this year. Proceeds from the auction will benefit PAWS. We'll be collecting auction items for a few more more weeks, and our Silent Auction page will be updated regularly.
Highlights of auction items include a Seattle Mariners bundle, SIFF Opening Night Gala Pass, two collectible bottles of Washington wine, Grooming Package from Aussie Pet Mobile, Gift basket from Hands to Paws Small Animal Massage, Passes to SIFF screenings, Caffe Vita whole bean coffee from Waterfront Coffee Company, Juice Plus+ nutritional drink, Half off initial session of water therapy at SplashDog, Half case of NW Naturals Freeze Dried food, Honest Kitchen Keen & Taster Kit, 33 lb. bag of by Nature Pork dog food, and more!
Behavior Problems Linked to Early Separation from Litter
A recent study conducted in Italy supports the premise that canine behavior patterns are formed within the first 2 months of life. It concludes that there is a higher incidence of behavioral problems among puppies who are removed from their litter at two months or less, than others who remain longer.
The study was conducted by interviewing clients in several clinics located in Naples, Italy. 140 dogs were involved in the study, with half separated from their litter between 30-40 days. The other half remained with their litter for 60 days. The interviews were conducted when the dogs ranged in age from 18 months to 7 years.
Half of the dogs came from pet shops, one in three came from another household, and the remaining came from breeders. There were no rescue puppies included in the study.  Read More. . .
Diseases You Can Get From Pets
We came across this interesting read in one of the sources we regularly review. It was published in Bottom Line/Personal, by Jon Geller, DVM. Hope you find it as interesting as we did.
I'm not in complete agreement about everything ('specially not allowing a dog to lick my face!) but did find it educational.
Here's the article:
"In recent years, the drug-resistant bacteria methicillin-resistant Staphylococcus aureus (MRSA), which used to be found exclusively in humans, has turned up in pets. Humans can acquire MRSA (often pronounced "mersa") during a hospital stay, then pass it on to their pets, where it can live for several months before being passed back to humans who have close contact with the pets. Read More. . .
Make Your Own Dog Treats
Have you been looking for the ideal dog treat but disappointed with what you're finding? Have you wanted to make small batches of your own treats with ingredients specially chosen just for your dog?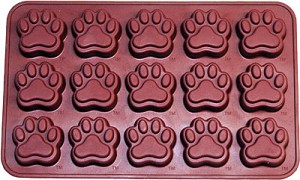 Introducing the Mini Paws treat pan– ideal for small batches of treats that you can customize any way you choose! This silicone baking pan will make 15 treats (with your help, of course) each measuring approximately 1.5 inches around and 1/2 inch deep.
Easy to clean and dishwasher safe, it can be used in conventional or microwave ovens, or even in the freezer. The entire pan measures 5.5 inches X 9 inches, slightly smaller than a full sheet of paper. $11.75
This Month's Whole Dog Journal
The November 2011 issue of Whole Dog Journal, featuring it's annual canned food review, is now available. Did your favorite brand make the cut? If your favorite food is not included, it may be a result of the company choosing no to reveal where the food is manufactured.
Also included in this month's issue are articles on crate acceptance or alternatives for confinement, bark training in a multi-dog household, and Cushing's Disease symptoms and treatment options. . Read More. . .
FEATURES of the MONTH
12 oz. Greenies- save 10%
Save on the 12 oz. size of these dental treats in your choice of sizes. Be sure to choose the appropriate size for best results. Available in Petite (15- 25 lb dogs), Regular (25- 50 lb. dogs), Large (50- 100 lb. dogs). Teenie size for dogs under 15. lbs. is available by request.
The price of this favorite chewy treat just keeps going up, so we're happy to bring it down this month!
Planet Dog Bulbs- save 15%
Get a jump on your pet's holiday decorative shopping with these Orbee-Tuff durable chew toys from Planet Dog. Made from recyclable rubber, they float and feature a Treat Spot for stuffing. Choose from the Large Red (6.5 inch) or Small Green (4 inch) bulb.
Paw Print Memorials- save 10%
A perfect gift when you or a friend has lost a furry family member. This tri-colored enamel design comes in your choice of pin, pendant or keychain. It includes a small sympathy note card and copy of the Rainbow Bridge poem.
TREAT of the MONTH
WildSide Salmon Kangaroo treats- save 17%
These crunchy Kangaroo treats are low in fat and contain kangaroo, potato and apple in a 3 oz. package. Great for dogs that have food allergies!
Interested in the special pricing on these treats? Become a Treat of the Month Club member- it's free! Just email us or mention it with your next order to sign up. Each month that you receive a delivery, the featured treat will automatically be added to your order. You'll save a minimum of 10% each time, and treats are no more than $6.00.