We're pleased to be offering a new way to support PAWS this year, through our Silent Auction. Proceeds from the Silent Auction will benefit PAWS and the work they do in our community.
Have an item you'd like to donate to the auction? Download a Procurement Form and return it to us by November 23.
If you've never participated in a Silent Auction before, here's what you need to know:
There will be a display of items at Woofstock. Each one will be accompanied by a Bidding Sheet.
The Bidding Sheet will show you the retail value, along with an Opening Bid amount and bidding increments.
You'll fill out a short "Bidder's Card" with your name and contact information.
You'll use the number on your Bidder's Card to participate in the auction, so you don't have to repeatedly write your name and contact info on every bidding sheet.
Like an item? Write your Number next to the amount of your bid on the Bidding Sheet.
You can bid multiple times. If you like an item and someone enters a higher bid after you, write in another bid after them!
Each item will have a Guaranteed Purchase price. If you're the first to enter a bid for that price, the item is yours!
Bidding closes at 3:30pm. If you are present at 3:30, winning bidders can take their items home!
You do not need to be present to win. We'll contact you if you're a winner, but not present, when the bidding closes.
Below are some of the nifty items you can bid on. We'll be updating this list until mid- November when the procurement process will end.
Bottle of 1989 Chateau Ste. Michel Merlot wine (donated by Art Mendel) Retail Value $45
Bottle of 2001 Russell Creek Winemakers Select Merlot (donated by Art Mendel) Retail Value $40
15 Step Grooming Package (donated by Aussie Pet Mobile- Edmonds) Retail value $90 A complete grooming package at your home. Includes eye and ear cleaning, nail clip, brushing and matt removal, shampoo massage, condition, rinse, towel dry face, blow dry, brush out coat, light trim on feet, face, tail & ears, sanitary trim, aromatherapy conditioner, ribbon or scarf & treat!
33 lb. by Nature Pork dog food (donated by by Nature) Retail Value- $55.00
2 cases of 13 oz. Canidae Platinum canned dog food (donated by Smiley Dog) Retail Value $48.00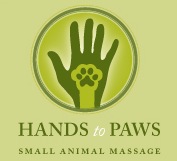 Dog Basket with Massage Gift Certificate (donated by Hands to Paws Animal Massage) Retail Value $100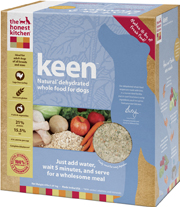 4 lb. Honest Kitchen Keen (donated by The Honest Kitchen) Retail value- $30.00
Keen 4lb box: Dehydrated human grade & whole food recipe for dogs, Keen is complete and balanced and a 4lb box hydrates to 16 lbs of fresh food! Just add warm water, stir and serve in 5 minutes.
The Honest Kitchen Taster Kit (donated by The Honest Kitchen) Retail value- $20.00
Taster Kit: A trial size box of each of our 3 most popular recipes; Force, Embark & Keen, along with an 8 oz box of Buffalo & Blueberry treats – and a sample of Perfect Form (digestive supplement to help the transition to new food)
JuicePlus Complete plant-based nutritional drink (donated by Carolyn Carman, JuicePlus+) Retail Value $27.75, reserve price $12.00
Whole food based nutritional drink. Great for breakfast, a meal replacement, before you work out, or after to replace nutrients.
Paw Print Picture Frame (donated by Glass Gardens NW) Retail Value $25
Fused glass picture frame with hand painted pawprints.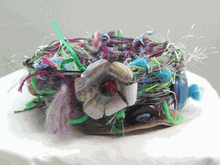 Urban Nest for an Urban Bird (donated by Kim Groff-Harrington) Retail Value $39
This one-of-a-kind, handcrafted nest is made from recycled materials. In the Spring, birds may come down and pull out loose threads to use in their own nests. You can help them by putting pet hair, hair from your hairbrush, bits and pieces of yarn and thread inside, making your Urban Nest a functional piece of garden art!
"Growth" Garden Plaque (donated by Linda Thorson Design) Retail Value $45
Cast stone garden (or inside) plaque depicting "Growth". One of a series of six "Nature's Forces". May be kept outdoors in winter.
Airedale Rescue Quilt Pattern set (donated by Lydia Ross) Retail Value $30 The full pattern set for a delightful quilt.
Half case of NW Naturals Freeze Dried food (donated by NW Naturals) Retail value- $60.00
The other Half Case of NW Naturals Freeze Dried food (donated by NW Naturals) Retail value- $60.00
SIFF 2012 Opening Night Gala Screening and Reception for Two (donated by SIFF) Retail Value $100
Pass for two to the  2012 Seattle International Film Festival Opening Night Gala Screening and Post-Film Reception.
2 Passes to any SIFF Screening (donated by SIFF) Retail Value $20.
Five sets of 2 tickets each (total of 10 tickets) for any SIFF Cinema screening of your choice. Excludes 2012 Festival and special event screenings.
The Seattle Mariners packages! (donated by the Seattle Mariners) Retail value- $1200
Seattle Mariners Bats and Poster– Retail Value $500.
An authenticated pair of broken bats, used by Justin Smoak and Miguel Olivio in the 2011 season, along with their Mariner's Vice collectible poster. The bats can be authenticated using the holographic referencing system implemented by MLB.
Seattle Mariners Box Seats and Autographed Baseball– Retail Value $390
Certificate good for 4 Box Seats of your choice to most any game in the 2012 Season. Package includes an autographed baseball from Dustin Ackley.
Seattle Mariners Bobblehead Set– Retail Value $200
Set of 4 bobbleheads from 2010 including Ichiro, Larry Bernandez, Felix Hernandez, and Mark Macklemore & Mike Cameron duo.

Seattle Mariners Duffel Bag Collection– Retail Value $100
An Ichiro duffel bag with Mariner's blanket, jersey, t-shirt, King Felix storybook and cap.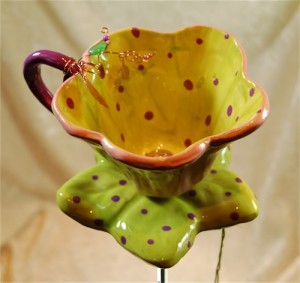 Large Flower Teacup Garden Stake (donated by Marissa Motto,  Unique Ceramic Ware) Retail Value $38
Whimsical handmade earthen Teacup Garden Stake. Makes nice birdfeeder or batch. Protect from freezing.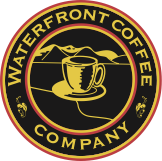 Two 12 oz. packages of Seattle roasters Caffe Vita whole bean coffee. (donated by Waterfront Coffee Company) Retail value- $7.50 each