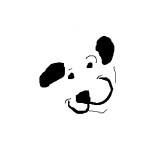 In this issue:
Your special offer
What Goes into an AAFCO Feeding Trial?
Caru Real Meat Stews are Tasty Dog Food
7 Minutes, 7 Questions, One FREE Gift
Say Goodbye to 40 pound Precise Foundation bags
Monthly Features
New products
Treat of the Month

Wow.
Just blink and summer is practically gone. I do hope you've had an opportunity to enjoy the outdoors before the grey of Fall returns. To help brighten your days, have a look at your special offer below. There's just something about a rubber chicken that brings out a smile, and these are no exception!
Also, don't miss this month's invitation to complete a very short survey. It's time once again to take a look at what we can improve or refine. Your comments are extremely important in helping us understand how to meet your changing needs. Complete the short survey by the end of September, and you'll receive a surprise gift on your next delivery before the end of November. You can also complete the survey anonymously, but then we won't know where to send your gift!
YOUR SPECIAL OFFER
Buy an adult, get a free "child"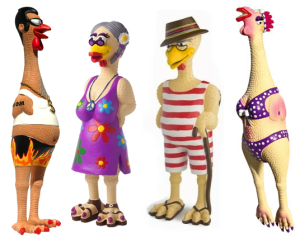 These captivating rubber chicken are being offered at a special price this month in advance of Thanksgiving. Why? Well, we think rubber chickens are just… fun. And if you agree, you can not only save a bit of scratch on an Adult Earl, Grandma Hippie Chick, Grandpa Gimpy Hip or Henrietta, we'll toss in the child version of that toy as well, absolutely free!
Now you may not have use for that child if you have a large dog, but I'll wager you've got a friend who would be egg-static to receive a silly sounding toy. So scramble over to get your full size Fowl(s) and have fun with the kids! And remember, each toy has its own distinct sound- these may not just be for the dogs!
You must mention this Clucking eMuse offer when you place your order to receive your freebie!
Adult sizes are approximately 13-16 inches tall, kids are 8- 9 inches in height.
You may have seen Henzilla on Facebook last month settling into her new home in Edmonds. Henzilla is an endangered species and no longer available.

NEWS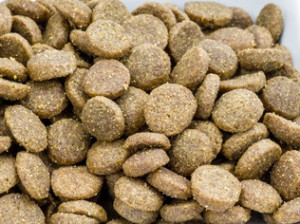 What Goes Into an AAFCO Feeding Trial?
Imagine being one of a carefully selected group, given medical screening, and then guided into comfortable quarters. Carefully portioned food and water is prepared just for you. After a short while, you're joined by seven friends. Depending on your hosts, you may be coddled or ignored, but always well fed.
Week after week, the same food appears in carefully measured portions. Over time, some of your friends may disappear. For 26 weeks, you'll be well fed, observed and ushered in for medical attention as needed. You may even have the opportunity to play a bit, but no snacks or treats are allowed. Sound like a good time?
When a new pet food is introduced, certain nutritional standards must be met before it can carry the all-important AAFCO (Association of American Feed Control Officials) certification. Read more…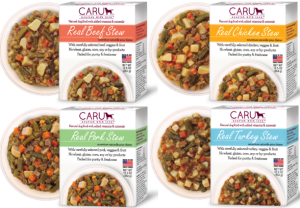 Caru Real Meat Stews are Tasty Dog Foods
Made in small batches with USDA inspected meat and poultry, Caru dog stews are a different type of pet food. All formulas use fresh meat as their first ingredient, and round out their ingredient list with whole foods including potatoes, apples, sweet potatoes, carrots, green beans and peas.
Caru Real Meat Stews are soy, grain, by-product and gluten free. The company claims its food looks, smells and tastes like homemade. Compared to traditional canned food, this is not an exaggeration! Read more…
7 Questions, 7 Minutes, One FREE Gift: Want to Take a Survey?
You're invited to complete this short survey to help us better understand how we can continue to improve our service for you. The survey is just 7 questions and should take under 10 minutes.
In return for your thoughts, you'll receive a surprise gift on your next order delivered before November 30. Just complete the survey by the end of September and include your contact info at the end. You can also submit your answers anonymously if you prefer not to receive your gift. Click HERE to complete the survey.
Precise Foundation Moves to 30 Pound Bags
It's the end of an(other) era.
The best selling 40 pound bag of Precise Foundation has finally been retired. With the new packaging introduced last month, Precise has discontinued the 40 pound size, and has transitioned to a new 30 pound bag. Our last 40 pound bag was sold this week.
If you're on an auto-delivery schedule which was carefully calculated to reflect the time it took to work through a 40 pound bag, your schedule has been adjusted to reflect the new size. Although the cost of the bag has gone down, the price per pound has gone up slightly. To their credit, Precise has dropped the price along with the bag size. Read more…
FEATURES of the MONTH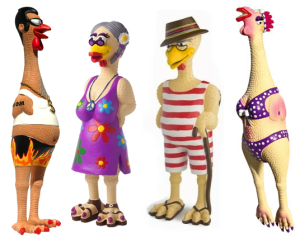 It's been a while since we let these rubber chickens roam free, and now's as good a time as any. Choose from any of the ridiculously appealing designs including Henrietta, Earl, Grandma Hippie Chick and Grandpa Gimpy Hip. Each is available in Large (13- 16 inches; $13.75) or Small (8- 9 inches; $7.75) sizes, and each has its own very distinctive squeaker. Now $11.00 and $6.20
Caru Real Meat Stews- save $4 on Variety Pack

Try all of these tempting, new, gently cooked real meat stews for dogs and find your favorite. You'll receive one package each of Beef Stew, Chicken Stew, Pork Stew and Turkey Stew. Read more about this exciting new food! 4 pack regular $23.00, now $19.00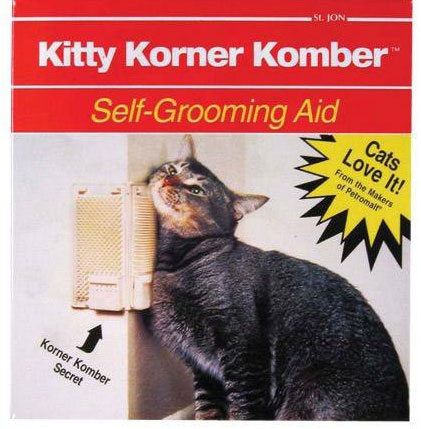 Give your cat a serious surface for self-grooming with this simple to install corner scratcher and grooming aid. Can be mounted on any wall with screws or double sided tape. Dozens of raised plastic "fingers" are a favorite, soothing texture on face and whiskers. A small reservoir can be loaded with catnip (included) for extra pleasure. Regular $10.50, now $9.00
NEW ITEMS

Four deliciously tempting varieties of human-grade stew created for your dog's dining pleasure. These fully cooked stews are packaged in easy-open, recyclable boxes and need no refrigeration until opened. Use as a topper, complete meal, or, in a pinch, your own dinner! Available in 12.5 oz. Beef Stew, Chicken Stew, Turkey Stew and Pork Stew.  $5.75/ box.
TREAT of the MONTH
Yaky Puffs from Himalayan Dog Chews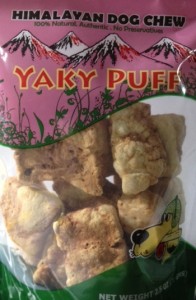 Enjoy a specially priced package of Himalayan Dog Chews Yaky Puffs this month. These soft and crunchy treats are made from small bits of Himalayan Dog Chews. Unlike the harder chews, Yaky Puffs are lightweight and airy with a consistency like popcorn.  2.5 oz package Regular $6.00, Club price $5.25
Interested in the special pricing on these treats? Become a Treat of the Month Club member- it's free! Just email us or mention it with your next order to sign up. Each month that you receive a delivery, the featured treat will automatically be added to your order. You'll save a minimum of 10% each time, and treats are no more than $8.00.