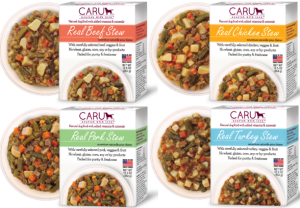 Made in small batches with USDA inspected meat and poultry, Caru dog stews are a different type of pet food. All formulas use fresh meat as their first ingredient, and round out their ingredient list with whole foods including potatoes, apples, sweet potatoes, carrots, green beans and peas.
Caru Real Meat Stews are soy, grain, by-product and gluten free. The company claims its food looks, smells and tastes like homemade. Compared to traditional canned food, this is not an exaggeration!
Caru is packaged in TetraPak cartons with no preservatives. Unlike metal cans, TetraPak boxes are easily opened, closed and stored. They are ideal for traveling, need no refrigeration until opened, and stay fresh in the fridge for up to three days after opening. Once empty, the cartons are also recyclable.
Based in Vero Beach, Florida, the family-owned company offers four flavors of minimally processed, gently cooked stews— Beef, Chicken, Turkey and Pork.  Use as a topper, complete meal, or, in a pinch, your own dinner!  12.5 oz. Beef Stew, Chicken Stew, Turkey Stew and Pork Stew.  $5.75/ box.
Learn more at the company's website.