Smiley Dog began in 1992 with the simple goal of sharing an affordable source for dog toys.
Dismayed by the high cost of toys available locally, a major breakthrough was achieved with the discovery of wholesale mail order catalogs! (Remember those?)
Yes, this was before the web was everywhere
In those days,  glossy catalogs were one of the best ways to save money. The challenge with catalogs was their minimum order requirements. One dog can only use $100 of toys once or twice a year.
The logical next step was to pool orders with friends. We placed the order, received the toys, divided them up, then strolled the neighborhood to drop them off to our friends. Humans visited, the dogs romped, and a good time was had by all.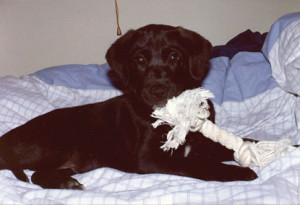 My dog was designated the official Test Lab for the business
He had subordinates, but toys, foods and supplements all had to receive his paw of approval before being considered for inclusion in the Smiley Dog inventory.
A co-worker suggested taking some of our toys to display at the Fremont Sunday Market. The first few Markets were underwhelming, but very educational. Long days, sales totals of under $20, and lots and lots of questions became the norm.
We found that visitors appreciated our insight on what toys would be appropriate for their pet, based on their descriptions of habits. The idea that toys could be delivered was intriguing, but they kept asking for something else.
Everyone wanted their pet food delivered
Our guiding philosophy was then, and remains now, not to recommend any product we did not believe in. If a toy did not live up to its marketing claims, we wouldn't sell it. So as more and more questions about food came to us, it became evident that some more education was needed.
Sure, we could deliver food, even though we did not at the time. But what food would we deliver? And thus the groundwork for the path of Smiley Dog was begun.
We began researching pet food, starting with marketing material available from manufacturers. We were shocked by what we found. Books were read. Trade Shows were attended and company reps interviewed.
From this introduction, our eyes were opened to a new world of information, and Smiley Dog took on a new mission. We would share this new-found knowledge with pet owners who could see for themselves the difference improved nutrition would make in their pets' lives.
This helpful mission continues today
At the time, there were only a handful of "natural" foods available. Organic products barely registered on the public's radar. Today's top selling natural brands didn't even exist.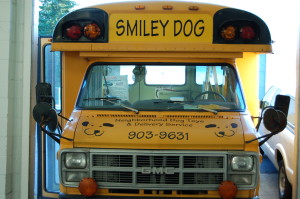 We chose to start with Precise Pet foods. They were a new food manufactured by a company out of Texas. They met all our criteria at the time. . .  no by-products, artificial flavorings or colorings, highly digestible, vitamin preservative system and reasonably priced.
Around this time, we added a new feature to our business- the Pupperware Party. With the aid of an old short bus, we trundled an assortment of toys and supplies over to a client's house and put up a simple display to share with friends.
With the addition of food, our inventory quickly outgrew the spare bedroom. A summer project had us designing and building a partition in the living room, which created a 100 square foot storage area for food.
It seemed like a good idea at the time.
Within a month, we were installing food racks in the garage. By the end of the year, we had invested in more racking and a storage building for the back yard. Two years later, we added another storage building. And then. . . we were truly out of space.
We moved into our first warehouse at the end of 2000
This was a former 1350 square foot convenience store in Lake Forest Park that had been abandoned by the previous tenant. They simply walked away, leaving freezers to thaw onto the wooden floor and filth to collect on the shelves.
We worked for 2 months cleaning up and repairing the facility in exchange for a few months of free rent. Then the "fun" work of painting and moving racks and inventory began. It seemed like paradise to have both a home to live in once again, and space to move around in without knocking product off shelves.
In 2006, we finally outgrew our first warehouse and moved once again. Our current location in Edmonds offers more than 5000 square feet of space, including an ideal area for Woofstock, our annual Open House. We've come a long way from our early Open Houses, which were indeed held in our house!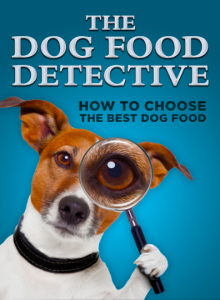 In 2008 a few of our major suppliers disappeared. Some went out of business and others were purchased. This resulted in the loss of support for our annual event, and Woofstock was suspended in 2012. We needed a new way to get the word out about healthy food. What better way than to write a book!
The Dog Food Detective was published in 2014
The book was written to help pet parents everywhere learn to make better decisions about food for themselves. Copies are being placed in waiting rooms with local veterinarians. It is available as a paperback or eBook and even has its own website!
We're truly grateful for the support we've received from our clients over the years.  We look forward to continuing our tradition of helping to support your pets' health and quality of life.
Learn about the human behind Smiley Dog