You're welcome to order however you feel comfortable.
Call 24 hours: (206) 903-9631
Once you leave a message, your call will be returned promptly between 10am-7pm
Email us:  smiley@smileydog.com
Use our Contact Form
Use our Secure Order Form
A word about our Secure Form. . .
We've made our Secure Form available as a method to send payment information securely online. We do not authorize charges when you submit the Form. Your card is charged once your order is shipped/ delivered for items in stock.
We are working on a transition to a shopping cart system which will streamline this ordering process. In the meantime, here's a representation of what you can expect when you click on the Secure Form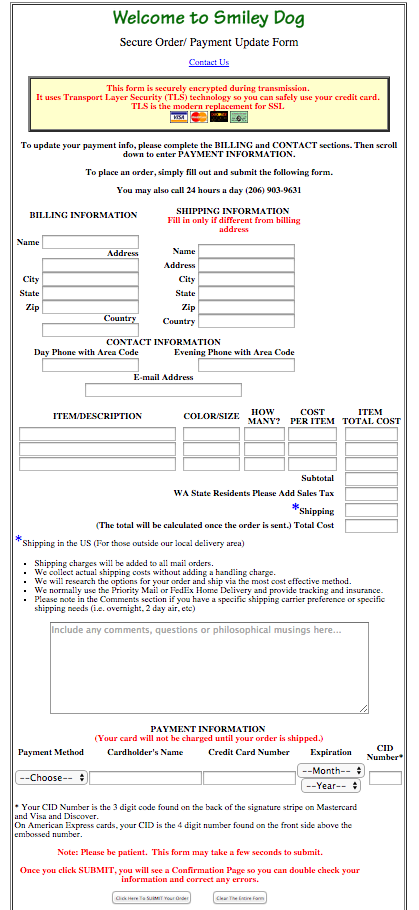 You'll need to enter your shipping info, order details and payment information. Don't worry about the totals and taxes unless you would like the exercise. We will collect the proper sales tax for your locality once we receive your submission.
If you're using the Form for a mail order, we will contact you with an estimate of shipping charges prior to charging your card.
Recurring orders: Once you've placed your first order, you'll be thrilled at how simple reorders will be. Simply call or email to let us know what you'd like, and it will appear at your door.
We can keep payment information on file for you, or you can leave a check to be picked up at the time of delivery. Simple, fast, and convenient!
For the ultimate in simplicity, consider our auto-delivery service. Adjust anytime as needed, and never run out of food again!