DOG DUNKING, TAIL WAGS, TREATS AWAIT AT WOOFSTOCK
Annual Open House celebrates local Seattle area pets, people and businesses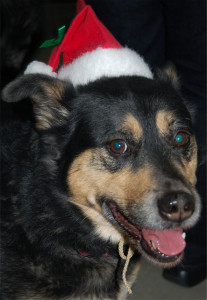 Seattle, WA- Where can you find Santa pet photos, a Silent Auction to benefit service dogs, a hot dog dunk, tie dye decor, and local pet businesses ready to answer questions? At Woofstock 2012, of course!
Woofstock will be held on Saturday, Dec. 1 from 12:00-4:00pm at the Smiley Dog warehouse located at 23303 Highway 99 in Edmonds, WA.
Woofstock is the annual Open House and Client Appreciation Day hosted by Smiley Dog, now in its 20th year of delivering healthy pet foods to Seattle area pet lovers. The local lineup includes manufacturers and service businesses offering samples, new product introductions, and promotions. Admission is free.
Summit Assistance Dogs, the local therapy dog training organization, will be the beneficiary of the event's Silent Auction. The auction includes items from the Seattle Mariners, Seattle International FIlm Festival, artwork, wine, a lunch with the president of Edmonds Community College and more. Donations from each Magic Photo session and Aussie Pet Mobile nail trims will also benefit Summit.
"When one of our clients introduced us to the great work they do and the lives they were changing, I knew Summit Assistance Dogs would be a perfect beneficiary of our silent auction funds," said Craig Weindling, Alpha Woof at Smiley Dog. "We're honored to support the terrific work that Summit does and showcase some of our local businesses."
Two legged attendees will enjoy no sales tax on purchases, Flashback deals and samples offered by select vendors, new product introductions, service dog demos, closeouts, giveaways, and a Prize Wheel. Four legged attendees will relish "under the table" handouts, the hot dog dunk, and indoor frolicking with friends.
Local businesses featured include Aussie Pet Mobile, Buddy Light, Cat Man Doo, Grizzly Pet Products, Himalayan Dog Chews, Magic Photo, and Northwest Naturals. Local author Debra Daniels-Zeller will be signing copies of NW Vegetarian Cookbook. Representatives from The Honest Kitchen, Real Meat Treats and Tiki Cat will also be in attendance. The event is co-sponsored by Canidae and Precise pet foods.
More information about Woofstock 2012 can be found at http://SmileyDog.com/news/woofstock-2012/ or by calling (206) 903-9631
###
HIgh resolution photos from previous Woofstock events available on request.