Your Special Offer | News | Features of the Month | New Products | Treat of the Month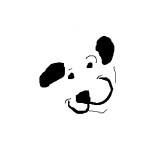 Welcome to June! We sincerely hope summer weather will shortly follow. To do our part, we're offering you the opportunity to make your own toy sale this month- choose any toy and take 10% off, or choose any two toys and take 15% off!
You also have a special opportunity to save 15% on up to 3 pints of Raw Goat's Milk- one of our new products this month. Want to know a bit more about the benefits of Goat's Milk? Read on!
Raw Goat's Milk- save 15%
Pick up a few pints of this natural  food to help with your pet's digestion. Goat's Milk contains an ideal combination of nutrients and enzymes, which support digestion and the immune system. You can read more about this new product below, or on the manufacturer's website.
As a subscriber, you can save 15% on up to 3 pints this month! Regular $5.75/ pint
Remember- you must mention eMuse when you order to receive this offer!
Raw Food Feeding Trial Begun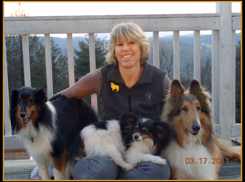 We were surprised and pleased to learn that Dr. Amy Nesselrodt, a veterinarian in Pennsylvania, has begun a one year raw feeding trial with her own dogs.
The trial began earlier this year with a transition from kibble to a raw diet. Exam results, including blood tests, were performed at the start of the period. They will be repeated at 6 months and the end of the 12 month trial. Results will be posted on Dr. Nesselrodt's blog. (Read More)
Antibiotics in Animal Feed Lawsuit Filed
A lawsuit has been filed against the Food & Drug Administration (FDA) to ban the use of antibiotics in livestock feed. A story in the Washington Post details this latest chapter in an ongoing controversy.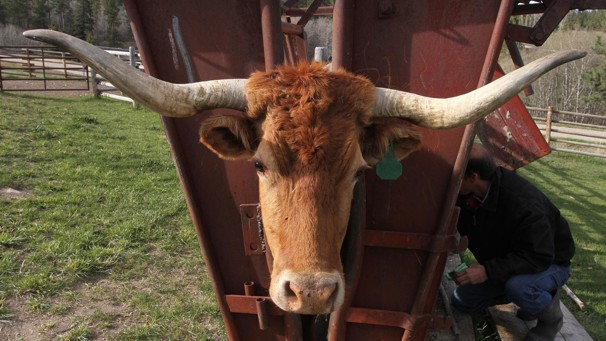 The lawsuit, filed by a group of organizations including the Union of Concerned Scientists, National Resources Defense Council, Center for Science in the Public Interest, Food Animals Concern Trust and Public Citizen, claims that the use of antibiotics in animal feed is contributing to antibiotic resistance in humans. (Read More)
Films and Food
For the past few weeks we've been enjoying the Seattle International Film Festival, which runs through June 12
We have a special weakness for this Festival, and it has an uncanny tendency to include some very timely and touching animal related films. Just one of the sacrifices that must be made in the name of ongoing education!
We've had the opportunity to view two films that will be coming to the big screen within the next year which you may find interesting- Project Nim and Buck. Both were surprisingly engaging, and not necessary in expected ways. (Read more)
Whole Dog Journal now available
The Whole Dog Journal is now available at a discounted single copy price from Smiley Dog!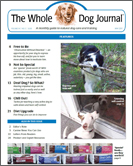 Have you been curious about Whole Dog Journal? Would you like to see more of the type of objective, advertising-free reviews and information it provides? Just ask to add an issue to your next delivery.
We've long been fans of The Whole Dog Journal, since they began publishing in 1998. WDJ articles are written by experts in the field, rather than marketing representatives. Because they accept no advertising, their articles are much more objective than you'll find in other publications. They name names and don't hold back when a product does not perform as advertised.
The June issue features articles on handling noise, dog park guidelines, homeowner insurance issues for pet owners, traveling with your dog and common causes of pet deaths (and how to avoid them). (Read more)
Furry 5K Helps Seattle Pets
Looking for something fun to do with your dog on Sunday, June 12? Stop by the 12th annual Furry 5K and help support the Seattle Animal Shelter! The annual event begins at 10am at Seward Park. We won't be there this year, but you can still attend for a great cause! More details can be found here.
BOGO Biscuits!
Save big on these biscuits this month. For the larger dogs among us, buy one MegaBone, get a second free while suplies last. Choose from Peppermint, Cheese or Peanut Butter flavors. Each biscuit measures 7 inches and weighs 7 ounces. $2.75 each
For a more "normal" sized treat, grab a box of Canidae Lamb biscuits, and receive a box of Canidae Chicken & Turkey biscuits free! These are 1 pound boxes which normally sell for $6.25
Save up to 15% on Toys
Welcome the summer months with some new toys in the house or yard!. Choose any dog toy or cat toy from our stock and take 10% off the price. Need more? Choose two or more different toys and save 15% on each! Discounts will not show on our website, but will be added when your order is invoiced.
Hands Free Leash- save 20%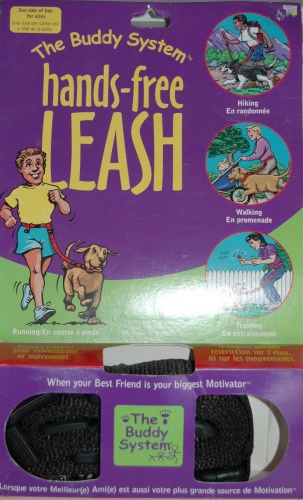 With the warmer weather approaching, perhaps you'll want to free up your hands while walking. Try the Buddy System hands free leash as a simple way to keep control over your dog. The adjustable belt features a quick release clip for the included leash. The leash is adjustable from 22 to 40 inches and includes a swivel hook to prevent tangling. Available in Black, Red, or Royal Blue. Regular $23.75, now $19.00
Sam's Yams Bichon Fries– save 15%
Save on these Sweet Potato treats, shaped like french fries. Contain 100% Sweet Potato, made in the USA. Reg. 6.75, now $5.75
Looking for a potent digestive aid for your dog or cat? Want a natural way to support your pet's immune system? More comfortable with a whole food solution?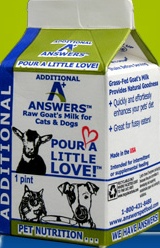 Answers Raw Goat's Milk is now available for delivery!
While we're not quite ready to deliver your milk just yet, we're more than happy to fill the needs for your pet. Goat's milk contains an ideal combination of nutrients in correct proportions, along with enzymes. It requires very little effort to digest and receive the benefits of these nutrients. This allows your pet's organs to strengthen the immune system and detoxify the body, rather than working at digesting more inappropriate foods.
Goat's milk can be used as a supplement with raw food, dehydrated, canned or kibble. Simply pour it over the meal and stand aside. When used with raw foods, goat's milk will target and destroy "bad" bacteria which may be present while encouraging the growth of "good" bacteria. (Read More)
Carrot Crunchies- save 25%
A crunchy round treat made from Sweet Potato, Apples and Carrots. Ideal as a chew for smaller sized dogs, and a treat for medium or larger breeds. Veggies your pet will love! 6 oz. package Regular $8.00, Club Price $6.00
Interested in the special pricing on these treats? Become a Treat of the Month Club member- it's free! Just email us or mention it with your next order to sign up. Each month that you receive a delivery, the featured treat will automatically be added to your order. You'll save a minimum of 10% each time, and treats are no more than $6.00.