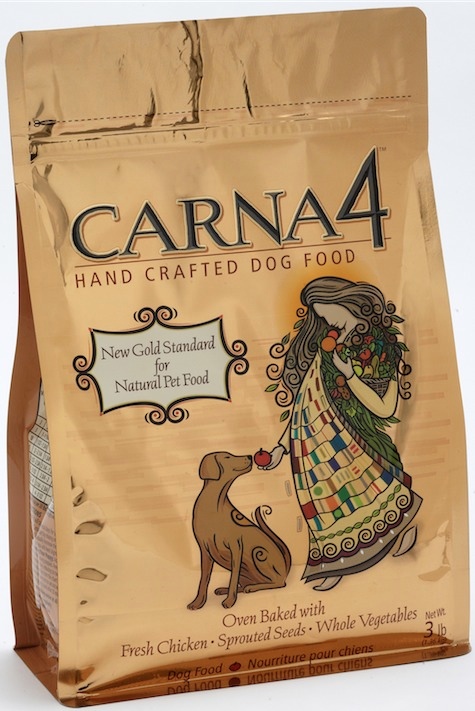 Last month we wrote a bit about Carna4, an entirely new approach to feeding your pet. The trial bags are here and we're honored to be the first retailer in the area to carry these wonderful products.
If you missed the earlier intro, Carna4 is a new way to feed your dog which combines the nutrition of raw with the convenience of kibble. Inside each bag are small nuggets of nutrition, made with whole ingredients, minimally processed and oven baked in small batches.
The food exceeds AAFCO nutrient standards without the use of a vitamin/ mineral premix
The active nutrients in the food come from the inclusion of organic sprouted seeds.
Sprouted seeds are nutritional powerhouses. As the seeds germinate, their nutrient levels skyrocket to prepare nourishment for a mature plant. The seeds develop higher levels of vitamins, minerals and enzymes. It is this increased nutritional benefit that allows Carna4 to use sprouted seeds in place of a synthetic vitamin/ mineral supplement.
Carna4 can be fed as a sole diet, or used as a supplement with raw, canned or kibble diets
While it is not an inexpensive diet, it is lower in daily feeding cost than raw, and more affordable than dehydrated mixes.
As an introduction to the benefits of sprouted seeds, you may want to consider one of these alternative paths.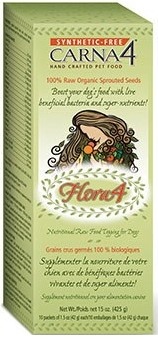 Flora4 Food topping– handy, individual packets of ground organic sprouted seeds that can be sprinkled directly over any dog food. Flora4 offers a concentrated source of nutrition in small silver packets that are easily transported or stored. Contains ground organic sprouted seeds and nothing else.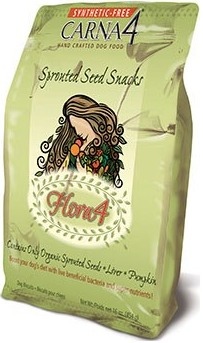 Flora4 Sprouted Seed Snacks- a truly healthy treat bursting with sprouted organic seed nutrition, liver and pumpkin. Your dog may see these as a treat, but you'll know they are actually a therapeutic, nutrient-dense supplement in a biscuit!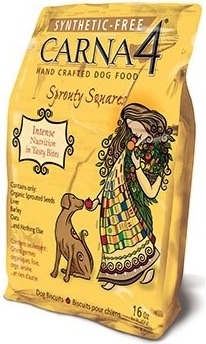 Carna4 Sprouty Squares– similar to the Flora4 biscuits but not quite as potent, these treats combine organic sprouted seeds with liver, barley and oats.
Interested in sprouted seeds and want more info? Click here to see 7 Benefits of Sprouted Seeds