Sprouted seeds are nutritional powerhouses. As seeds germinate, their nutrient levels skyrocket to prepare nourishment for a mature plant. The seeds develop extremely high levels of vitamins, minerals and enzymes.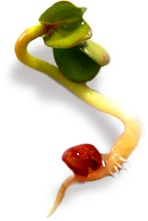 It is not until a seed is sprouted that this boost in nutrients is unlocked. Prior to sprouting, nutrients are kept intact within the seed's protective coating. Once a seed germinates, the nutrients multiply rapidly and become available to be digested, absorbed and utilized by the body. A sprouted seed also activates enzymes, which makes the nutrients in your dog's food much easier to absorb.
7 Benefits of Sprouted Seeds:
1. Increase antioxidant levels to combat cancer- causing free radicals
2. Very high levels of Omega-3 Fatty Acids which help reduce the effects of arthritis with their anti-inflammatory properties.
3. Prevent stomach upset and reduce intestinal gas with the enzymes produced by sprouting.
4. Encourage good bacteria (probiotic) growth to help keep the digestive tract healthy.
5. Increase soluble fiber which helps toxins leave the body more efficiently.
6. Concentrated nutrition eliminates the need for synthetic vitamins and minerals.
7. Low glycemic levels make sprouted seeds ideal for pets with diabetes and blood sugar issues.
Want to learn how to reap the benefits of sprouted seeds in your dog's daily diet? Have a look at the Carna4 line of products.