Your Special Offer | News | Features of the Month | New Products | Treat of the Month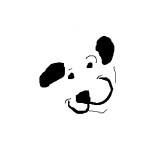 Greetings!
We can't think of a better Valentine's Day present than to announce your private opportunity to enroll in the new Smiley Dog STAR Program! The STAR Program (Special Treatment and Rewards) combines our most popular programs with exclusive benefits to ensure you receive the highest level of service and value available.
As an eMuse subscriber, if you are currently on auto-delivery or request to be before the end of February, you will be automatically enrolled! This automatic enrollment will continue only through the remainder of February. There is no cost to participate. For more information, see the first of your two special offers below.
YOUR SPECIAL OFFER
Private Enrollment to the Smiley Dog STAR Program
We invite you to take advantage of a private, Open Enrollment opportunity for eMuse subscribers through the end of February. You can learn more about the benefits of STAR Membership in this private post. Log in using the password "star" (lower case, no quotes).  This post will be published and available to the general public next month.
Beginning March 1, enrollment in the STAR Program will be by invitation only. After this month, you may request enrollment at any time, although depending on where we are in our monthly signup quota, you may be placed on a waiting list. Take advantage of your offer this month and come on board!
If you are currently on an auto-delivery schedule, you will automatically be enrolled and will receive a welcome letter with your next delivery. If you do not receive your letter, please let us now so we can correct the oversight and you can begin your exclusive savings!
Free bag of Food- limited supply!
The good folks at byNature have made a limited number of small bags of food available for us to offer to our best clients- that's you!
byNature is an all natural kibble which was formulated by the same individual who developed the original Wellness formulas. It is available in Duck & Sweet Pea, Pork & Sweet Potato, Salmon, Ocean Fish & Yogurt and Organic Chicken formulas. You can read a bit more about the company on their website.
If you're interested in trying one of the above formulas, please let us know and we'll put a bag aside for you until they are gone. We have only a few bags of each formula, so if this is of interest to you, don't hesitate to ask!
Remember- you must mention eMuse when you order to receive this offer!
Merrick Recalls Texas Taffy Treats

Merrick Pet Care has announced a recall of all lots of their popular Texas Taffy treats because of the possibility of Salmonella contamination. The treats have a UPC of  02280827077. All lot numbers, up to and including 10364 are included in this recall.
No illness has been reported to date. The company's recall notice can be found here.
If you have purchased this item from us, we will be contacting you to arrange to pick up any product you currently have and credit your account.
Precise Plus Large Breed discontinued
Precise is discontinuing its Precise Plus Large Breed Adult formula. The company is recommending that users of Precise Plus Large Breed transition to Precise Holistic Complete Large/ Giant Breed adult formula.
We have a small amount of Precise Plus Large Breed remaining in stock, which will continue to ship until it is gone. To date, there is no information about any other Precise Plus formulas being dropped.
PetMate sold to private equity firm
You may be familiar with the names Doskocil, PetMate, Aspen, Booda, Dogzilla, SoftBite, Cabin Kennel, Vari-Kennel, Furrari, Kennel Cabin, Bamboo, Fat Cat and Igloo. All of these are PetMate brands of products, now under new ownership.
The company has been sold to Wind Point Partners, a private equity firm based in Chicago. A new CEO was announced as part of the sale. What this means for the brands and quality of the products remains to be seen. The company's press release announcing the sale can be found on their website.
Natura announces new frequent Feeder program
Natura has announced a new Frequent Buyer program for its Innova, California Natural, Healthwise, Evo and Karma brands.
The new program now requires the purchase of 10 bags to qualify for a free bag, rather than 12 bags required in the program it replaces.
Users of Natura foods will now be able to mix brands, formulas and sizes to make up their 10 bags. The free bag will be of comparable size and value of the smallest bag included in the 10 bags used to qualify for the freebie.
Other significant changes to the program include how proof of purchases are tracked and how the completed forms are submitted for redemption. A new Proof of Purchase seal now will be required from each bag submitted under the new program, and forms must now be mailed directly to the manufacturer. More details are available here.
Darford improves cookie formula
Two of our more popular bulk biscuits from Darford, Puppy Hearts and Liver Hearts, have been reformulated.
The treats no longer contain corn or garlic. Flax Seed and Dried Kelp has been added to the cookies, and naturally preserved Chicken Fat is used in place of animal fat.
The new Liver Hearts are approximately the same shape and diameter, although you may notice a bit of an increase in their thickness. The Protein (15%) and Fat (8%) content remains unchaged, but the Fiber content has decreased from 10% down to 3%
NRG Announces Formula Changes
We were recently notified that NRG would no longer be producing its Salmon formulas as a result of skyrocketing Salmon prices.
According to our supplier, pricing of their Salmon has risen by 300%, making the formulas containing Salmon quite expensive.
Prices on the remainder of the line, including Beef, Bison, and Chicken formulas, remains unchanged.
Save $7 on Honest Kitchen Embark this month
A special purchase allows us to offer a limited supply of The Honest Kitchen Embark 10 lb. boxes this month. This all natural, dehydrated fresh food mix is an ideal alternative to raw feeding. The 10 lb. box makes 43 lbs. of fresh food. It normally sells for $86.75, now $79.75.
Complete and balanced, just add water to this Turkey based, grain-free, low carb formula and let it rehydrate for a few minutes. Embark is made with cage-free turkey, fruits and vegetables.  Mix up a few days to store in the fridge. No refrigeration needed for the food prior to rehydration.
Interested in this formula or the Honest Kitchen line? More info can be found on the company's website.
15% off Terrabones
In honor of National Pet Dental Health Month, you can pick up an all natural tasty tooth cleaning treat at a great price this month! Save 15% on either Large ($3.00; reg. $3.50) or Small ($1.50; reg. $1.75) Terrabones this month! These low fat and low calorie chews are made with 50% organic and 100% natural ingredients with no wheat, gluten, corn, soy, or added sugar.
Freeze Dried Chicken Treats– save 20%
We have a limited supply of these 1.66 oz. resealable cans of freeze-dried treats. A favorite for training, these are 100% chicken and loved by both cats and dogs! Grab some while they last! Reg. $6.25, now $5.00
Save 20% on VetBasis Petlette Pet Wipes
These handy wipes come packaged in a handy pocket sized bag. Eight wipes per bag, each unfolds to 8.5 X 11 inches. Perfect for a quick paw wipe or clean up after a rainy or muddy walk.  Available in Unscented or Orange Mango. Reg. $6.00, now just $4.75.
Invincibles are back!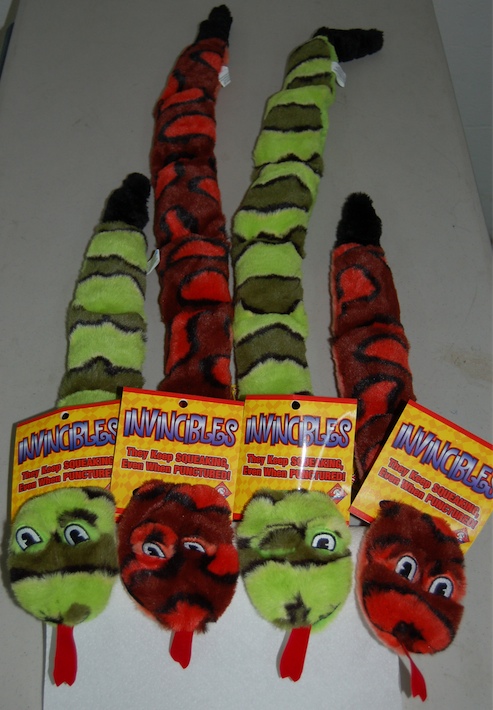 Not really a new product, but these toys have been out of stock for the past few months and we're happy to welcome them back. Kyjen Invincibles are plush toys with squeakers that continue to work even after they have been punctured. Available in a 3 squeaker Small 3 Squeaker size ($12.75) and 6 squeaker Large size ($18.75)
Free Range Dog Chews Friday Night Special- save 20%
A 5 oz, package of a tasty seafood treat! This crunchy treat combines Calamari Squares, Shrimp and Sweet Potato in a high protein, low fat treat. Reg. $7.50, Club Price $6.00
Interested in the special pricing on these treats? Become a Treat of the Month Club member- it's free! Just email us or mention it with your next order to sign up. Each month that you receive a delivery, the featured treat will automatically be added to your order. You'll save a minimum of 10% each time, and treats are no more than $6.00.