And of course, it's for the dogs.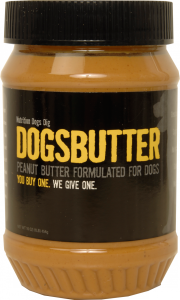 I'm not sure why I thought about the peanut butter as the morning packing was finished. I suppose it's a good thing that it flashed across my mind. You be the judge.
Our annual pilgrimage to SuperZoo, a pet industry Trade Show had ended the previous day, and I was preparing to return home. I had been given a jar of Dogsbutter to bring home to sample out to our clients. Dogsbutter is an organic peanut butter made for dogs. It fit nicely in the bottom of my bag, nestled between some clothing and the energy bars purchased from the same company. Both would be nice additions to Woofstock, our annual Open House.
Surprised that all the samples and purchases from the show floor had fit in a single suitcase, it was time to check out and begin a morning adventure in Vegas. What followed was not quite what I had in mind.
Our PB saga begins at 6:05am.
Peanut butter. Is that a gel? Certainly not. But it could be considered a "questionable consistency" by TSA. After all, jello has been allowed but PlayDough confiscated. I thought it best to check the TSA website.
And there it was. Enough rantings from people whose PB had been quarantined that I thought it best not to take the risk. I'd either have to check my bag, or mail the PB home.
Now before we continue, a word of warning
If you decide to read on, you'll encounter multiple appearances of the word WHACK! When you see this, I expect you'll be thinking something along the lines of "well that's just stupid, why didn't he just. . . (fill in the blank)". And I'll answer that for you. It's an adventure. Enough said. WHACK!
The obvious solution was to see if there was a postal facility in the hotel. Well, yes there is. It's part of the business center. Which is where the safe deposit boxes are ensconced. Which is where there appeared to be a long line of impatient people.
Huge empty lobby. One long line. Six-thirty in the morning at the safe deposit boxes. Lucky people. I sure hope they had been up all night and weren't starting their day like this.
Not being one of the lucky ones, I decided I'd begin my adventure and head out for breakfast, then hop the monorail at MGM. There was a Cocos opposite the MGM that had gotten decent reviews for a cheapo breakfast. Since it was off the strip, that seemed like a reasonable thing to do. Catch the tram from Luxor to Excalibur, cross the skybridge to MGM, trot down the street to Cocos and ease on into the morning. WHACK!
But this is Vegas
If you've been to Vegas, you know that it takes forever to get anywhere. The scale of everything is so large, that traveling between buildings just next door can take 15 minutes or longer.
If you've not been to Vegas, think in terms of traveling between the top of two adjacent towers. You can throw a rope between their peaks. But to get from one to the other, you must first descend, traverse the flat expanse on the ground, then ascend to the top of the other. Distances are deceiving. And time consuming.
Time zones are deceiving as well. While you can get just about anything you might want in Vegas at 2 in the morning, that tram to the hotel next door doesn't start running until 9am. So, it's time to start hoofin' it. And off we go.
Walking down the Strip in the early morning is fairly calm
The first interesting sight was a woman jogging while balancing a full box of Krispy Kreme donuts. I couldn't tell if she was running late or just running. She looked dressed for a jog.
The walkway took me through MGM, and a surprising sign caught my eye. They had free kiosks to print boarding passes! I had planned to wait until getting to the airport to do this since my hotel charged for the service. But here was an unexpected perk.
And right across from the kiosks is their business center. Perhaps we can cross two tasks off the list and get on with a new adventure. It's not quite 7:30am yet, so there's plenty of time to spare. WHACK!
A small detour for a boarding pass
The kiosks ask for name, address, email and date of birth. At least they allow you to opt out of receiving their "exciting promotions and special offers." And it appeared that it would accept any info as long as all fields were populated. I really didn't want to share personal info just to print a boarding pass.
Maybe I should have. After entering the trip confirmation number on the Delta site, an itinerary to Mexico displayed. Nice, but a few months too early. Then I realized I had used the wrong itinerary from my travel app. Another try with today's return trip confirmation number. It was not recognized.
I tried a few more times with the same result. Fine. Back to the airport plan. Peanut Butter takes priority. So we head across the lobby to the business center.
The business center has Priority Mail boxes
But there's a charge for the boxes. Yes, they can mail it. But there's a charge. And yes, they can pack it. But. . . Just under $30 would get that Peanut Butter to my door early next week. Just over $25 would get it there with me today in a checked bag. WHACK!
By now I'm on a mission. And an adventure. So it's off to breakfast and in search of a post office. I've convinced myself that this can be taken care of for under $10 because I'm a cheapskate. Back to the street and on to Cocos as the clock edges closer to 8am. This PB has cost nothing but time now. At minimum wage, I'm into it for about $18.
It was then I realized that the ice in the water bottle which was filled as I left my hotel had completely melted. At least the first sip was chilled. WHACK!
Cocos appeared where it should be, just over an hour after stepping out of the hotel. So far, so good. By 8:30 I was looking at a menu which promised fresh peach french toast. This seemed to be a local enough atmosphere. Perhaps some help could be found here.
Local leads for a post office
After ordering, I asked the server if she knew whether there was a post office nearby. The confused look should have been enough of a tip off. "I'm not sure, but I'll ask some of the others. Then I'll come back and let you know." She returned and apologetically informed me that no one knew where the closest post office might be. WHACK!
No problem, I thought. I'll just see what comes up on my phone. Checked the USPS site, which needed to know my current address. That was available from the Cocos corporate site. Nothing within 1 mile, but 2 options within 5 miles. I didn't really want to walk more than a mile since I'd have to walk back as well. So it seemed reasonable to do a web search for mailing services close to the current location.
That returned a Mail Boxes Plus just over a mile away. Perfect, I thought. A nice after-breakfast stroll. WHACK!
It's now about 9am and getting warmer
The walk to the new destination was pretty straight forward, just two turns and that's where it should be. Except that it wasn't. There's a big. . . vacant lot. But all is not lost.
Something had caught my eye across the street approaching the original destination. The familiar colors of a FedEx store attached to a Starbucks was a welcome sight. Across the parking lot was a Gordon Biersch brewery. Seemed like a reasonable alternative to a mailing solution. So on towards the corner to cross to FedEx.
But first, another diversion
I saw the man as he was walking towards me across the parking lot. We exchanged a morning courtesy but he stopped just as he passed. "How long have you had that beard?" he asked. I was waiting for the light to change, so there really was nowhere to go. I told him I wasn't really sure, I'd had it since college.
"More than 20 years, then?" I assured him it was, but didn't know how much longer. My mind wasn't in math mode, although by now it probably should have been. The Peanut Butter saga had now cost 2 hours of time, a halfway decent breakfast and the morning sun was becoming hot.
"No, it couldn't be 20 years, it would be down to here" he continued, holding his hand down to his knees. "You must trim it sometimes, don't you?" I assured him I did, but not as much as I should. And then he schooled me in his hirsute history.
"I tried to grow a beard once but then I had to cut it, you know, because the pressure pulling down on my head, it was too much." He held his fingers just barely apart from one another and continued "It got about this long, and even long hair, you know, it's too much. It hurts some people. Mother Nature, she's not perfect." The light at the intersection changed and he was gone.
I tried to make sense of that. I'm not sure why.
By then the light had changed again and I headed to FedEx
I saw him again coming out of Starbucks just after saying goodbye to the Peanut Butter and wondered what kind of conversation he had struck up there. I considered picking up our conversation where we left off, but decided to make a wide berth. The look in his eye was just a bit wilder. I'd had enough of this adventure for the day.
Things at Fedex went surprisingly smoothly in comparison to the start of the day. They even supplied a box, cushioning materials and insisted on packing it for me. I suppose it pays to deal with professionals. Actually, it costs. Slightly more than a breakfast of fresh, crunchy peach french toast at Cocos.
So what had this free jar of Dogsbutter truly cost? I suppose it depends on your perspective. After factoring in the time, breakfast, and shipping we end up at around $62.34. But, it was free!
This better be some darn good butter
But we'll never know. The plan was to sample it out at Woofstock. That plan disappeared like our Vegas friend today with the announcement of a voluntary recall.
Oh well. It's all part of the adventure. At least we didn't have any for sale. WHACK!
Time spent: 3.5 hours @ $9.04 (minimum wage)= $31.64
Breakfast cost: $15.27 (includes tip)
Fedex charge: $15.43
Adventure experience: Priceless