Opened in October 2012, the Tails and Trails Off Leash Park is located at 1301 Mukilteo Blvd. It is on the north side of the street, off 5th street in Japanese Gulch.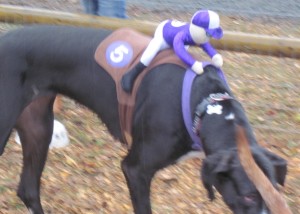 The stewards for this park are a dedicated core group of volunteers. No website, but their Facebook page has pictures, updates and work party schedules. They can also be reached at mukdogs@gmail.com
A large open fields, just under one acre,  is combined with a smaller divided area which can be used for less active or smaller dogs. Much of the area is covered with bark, with more being added. The park is fully fenced.
Nature trails are easily accessed from the off leash area. Adequate off street parking is available in a small lot adjoining the park.