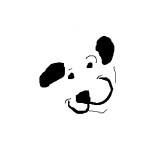 In this issue:
Your Special Offer
Precise Foods back in Stock
Kibble Conundrum
Monthly Features
New Products
Treat of the Month
Welcome to (almost) summer!
If you've considered switching or rotating your pet's food but have unanswered questions, you may find this month's news story helpful. We're always available to chat or offer suggestions.
The Treat of the Month for June was specially prepared for 4th of July fireworks challenges. If you're not a Club member but are interested in the K-10+ products, let us know. There are a few extra bars and water supplement packages available for individual sale this month.
YOUR SPECIAL OFFER
Save 15% on any new treats this month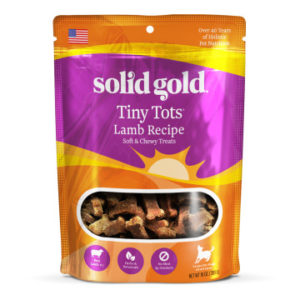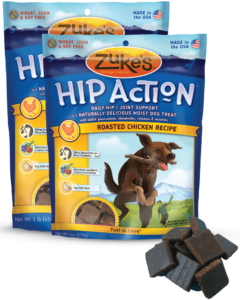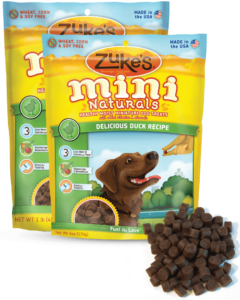 Enjoy special pricing on any of the three new treat items being introduced in this month's newsletter. Choose from Solid Gold Tiny Tots, Zuke's Hip Action Chicken, or Zuke's Mini Naturals Duck treats.
Whether you order online through the Shopping Cart, by email, or by phone, be sure to request your eMuse pricing for these treats. Your discount will be added once you request your special pricing.
NEWS
Precise Pet Foods back in Stock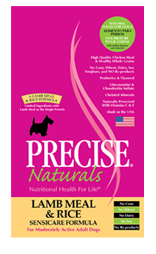 The te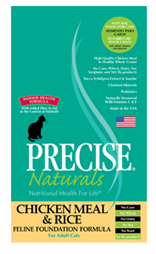 mporary shortage of  large bags of Precise Feline Foundation and Precise Sensicare appear to have been resolved.
The large bags of Feline Foundation cat food resumed shipping at the beginning of May and are now once again available. The month-long shortage of Sensicare concluded last week.
Our thanks to all who were patient during this recent temporary disruption of supply!
Kibble Conundrum: Stay or Switch?
It's a choice we all face at some point. How can we improve the food we're feeding our furry friends without breaking the bank?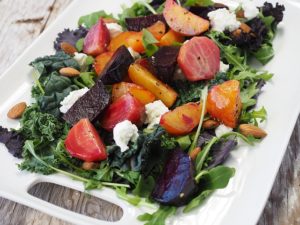 Chances are, you've put quite a bit of thought into your choice of pet food. Whether your decision is a result of experimentation or a trusted recommendation, there are always different options to consider.
If you're happy with your choice and routine, why change?
Changes in diet can offer healthy improvements
While a decent quality kibble can be a good foundation for a healthy diet, there are always ways to improve. Offering variety or different forms of food are two of the most common methods for switching up daily meals. Read more…
FEATURES of the MONTH
Bavarian Cat Toys- save 10%

A favorite of cats in Europe, these hand-crafted toys are filled with Valerian flowers and Lavender, offering an ideal alternative for cats that are unaffected by catnip. For some cats, Valerian has a similar effect as catnip.
Welli Sticks (pack of 2)– These seven-inch long tubes are filled with a combination of Bavarian grown valerian root, lavender, anise and spelt. The outer plush fabric provides a soft and durable casing.  Regular- $8.75; now $7.75
Welli Fish– This cute 6 inch fish is filled with the same enticing combination of German grown valerian root, lavender, anise and spelt. Eye and mouth are stitched on- never glued! Regular- $6.75; now $6.00

A safe and healthy alternative to rawhide, these chews are made with USDA inspected chicken or beef. Each chew is carefully rolled, cooked and dried for a low-fat, high protein treat with no chemicals or additives.
7 inch No Hide Beef Chews (2 pack)- Regular $16.50; now $14.75
7 inch No Hide Chicken Chews (2 pack)-Regular $16.50; now $14.75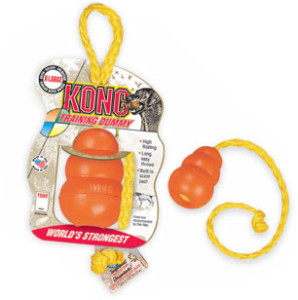 Just in time for summer, enjoy special pricing on Large and Extra Large Kong Water Retrieval toys. The orange color makes them highly visible for fetching fun on land or sea.
Large– Regular $12.75, now $10.20
Extra Large– Regular $15.75, now $12.60
NEW ITEMS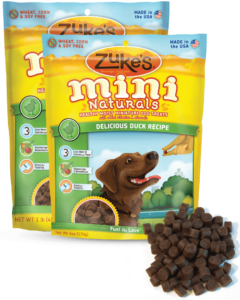 Ideal for small/ medium dogs, or training breeds of any size, these low-cal treats can be used liberally. With just 3 calories per treat, you may want to keep an extra bag on hand. Made with Duck, Ground Rice, Ground Barley, Malted Barley, Gelatin, Vegetable Glycerin, Tapioca, Natural Flavor, Cherries, Sunflower Oil, Salt, Lecithin, Phosphoric Acid, Rosemary, Turmeric, Sorbic Acid, Ascorbic Acid, Mixed Tocopherols, Vitamin E Supplement, Zinc Propionate. 6 oz bag- $6.00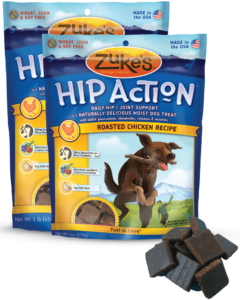 A good way to offer joint support without pills or powders, these tasty treats contain 300 mg of Glucosamine and 50 mg of Chondroitin in each soft square. 6 oz. bag- $9.50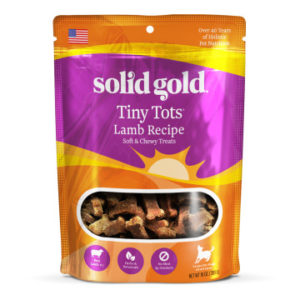 Small, bone-shaped Lamb Jerky treats are ideal for smaller dogs or training. These  soft and chewy treats are ideal for both puppies and seniors. Made with Lamb, Brown Rice, Oats, Lamb Meal, Tapioca Starch, Lamb Liver, Brown Sugar, Glycerine, Cane Molasses, Salt, Garlic Powder, Natural Smoke Flavor, Phosphoric Acid (A Preservative), Potassium Sorbate (A Preservative), Mixed Tocopherols (A Preservative), Cinnamon, Rosemary. 10 oz. bag- $13.75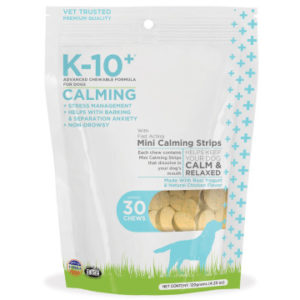 A simple way to offer a natural calming aid to your dog, these tasty chewable tablets are made with yogurt and natural chicken flavor. Ideal for stressful situations like the upcoming holiday, the non-drowsy formula can also help with separation anxiety. One tablet daily is recommended for a 50 pound dog, so the package will last one full month. 30 tablets- $19.75
TREAT of the MONTH

Calming Goodies: K-10+ Calming Bar and Water Supplement- save 25%
For stressful times like thunderstorms, parties or boisterous holiday celebrations, you now have a new calming aid to offer. Simply sprinkle the water supplement packet into your dog's water bowl, or use the bar as a treat.
Each contains natural calming aids including Colostrum Complex, Chamomile and B Vitamins. It does not contain Tryptophan, cause drowsiness or have other side effects which affect your dog's personality.
The Calming Formula Water Supplement is normally sold only in boxes of 28 packets. The June Treat of the Month includes 2 Water Supplement packets and 2 Calming Bars. Regular Price: $10.40  Club Price: $7.75
Interested in the special pricing on these treats? Become a Treat of the Month Club member- it's free! Just email us or mention it with your next order to sign up. Each month that you receive a delivery, the featured treat will automatically be added to your order. You'll save a minimum of 10% each time, and treats are no more than $8.00.