Your Special Offer | News | Features of the Month | New Products | Treat of the Month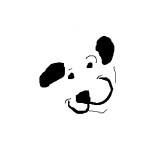 New Year's and Holiday greetings to you and yours! We wish you the best for a healthy and Happy New Year. Here's hoping for better times for all this year.
Now that winter has officially begun, we thought you might enjoy a reminder of the summer season that is just around the corner. If you haven't had a chance to view our video visits to Magnuson Park off leash area and Edmonds off leash area this summer, click the previous links or view our Dog Park Visits on YouTube.
Can you use a 2011 calendar? We have some 2011 Smiley Dog calendars remaining. If you would like one added to your next order, just say the word. They're free!
Free Turkey Bar with Chicken/ Salmon purchase
Grab a FREE one pound Northwest Naturals Turkey bar ($3.50 value) this month with the purchase of a 6 lb. bag of NW Naturals Chicken & Salmon formula ($22.00)
The Chicken/ Salmon comes in easy to use nugget form, and the Turkey bar is scored for easy serving of 4 oz portions. Try this premium raw diet this month and see how simple each packaging option makes raw feeding. Your dog will love both!
Remember- you must mention eMuse when you order to receive this offer!
NEWS
Orijen formula changes
Orijen pet foods has begun a transition to new formulas which include more fresh regional meats. Most new formulas now contain 80% meat and 20% fruit, vegetables and botanicals. The original formulas contained 70%/ 30%. The new Senior and regional Red formulas will contain 75% meat and 25% fruit, vegetables and botanicals. All formulas remain grain- free.
Why the change? Here is the official response from the company: "Our core values of leadership and authenticity along with our nutritional philosophy of "biologically appropriate foods from fresh regional ingredients" lead us to constant innovation and endless improvement." Read more. . .
Seattle dogs shocked and killed
Help your dog steer clear of potentially deadly metal light poles in the Seattle area! While it is almost as natural for a dog to approach a light pole as a fire hydrant, the result can be deadly.
We don't want to be alarmist, but did want to pass along a few words of caution in case you've missed these stories.
For the second time in less than a month, a street light pole has been identified as having an electrical fault which could lead to a fatal shock. A recent story was reported in the Seattle Times involving a metal light pole in he High Point neighborhood.
In late November, a dog was electrocuted in Queen Anne on Thanksgiving Day when he stepped on a metal plate adjacent to a light pole. Our sympathies go out to Lisa McKibbon who lost Sammy to this freak accident.
We'd advise a bit of extra caution when approaching metal light poles until more information is available and inspections are completed. While it is unlikely you will encounter a problem, a bit of extra attention may be in order given these past two occurences.
Seattle city light crews are now inspecting all 20,000 poles along with 10,00 metal covers.The Seattle Times reported in mid-December that 3 more problematic poles had been found.
FEATURES of the MONTH
Planet Dog Toys- save 10-20%
We'd rather put our few remaining Planet Dog holiday toys in your dog's toy box than keep them in our holiday display. Save 20% on Planet Dog Light Bulbs this month.
Another way to look forward to summer- eat fruits! Save 10% this month on Planet Dog Strawberry and Eggplant chew toys.
Charming Family toys- save 20%
Remember Earl and Henrietta? You've most likely never seen rubber chickens with the likes of these before! Save 20% on any of the Charming Chicken family this month- Earl, Henrietta, Grandma Hippie Chick or Grandpa Gimpy Hip.
PetLou Monkey Sticks- save 10%
Grab one of our newest additions at a 10% savings this month. These squeaky plush toys come in a variety of sizes for large (and huge!) dogs. Choose from the 20 inch, 26 inch or Monster 45 inch sizes.
NEW PRODUCTS
Precise Holistic Complete
The new line of foods from Precise, Holistic Complete, is now available for delivery.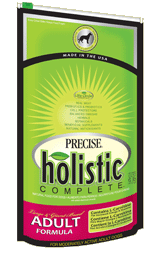 We're particularly intrigued by the Senior formula, which has a higher fat and protein content than most other Senior kibbles. If you would like a sample to try, just ask and we'll be happy to add it to your next delivery.
Holistic Complete uses DHA Gold for healthy skin and coat, prebiotics, probiotics & herbals for digestive support, and botanicals for natural sources of vitamins and minerals. This makes for very digestible formulas which means less food fed, less clean up, and excellent value for the price.
Holistic Complete is available in Large breed Puppy, Large Breed Adult, Senior, Salmon, and Duck & Turkey dog formulas. It is also available in a Salmon formula for cats.
You can read more about Precise Holistic Complete on the manufacturer's website.
Free Range Dog Chews
We're pleased to offer two new treats from Free Range Dog Chews. These treats are a part of their Dog-Nip Catch of the Day assortment.
Friday Night Special is a 5 oz package of Calamari, Shrimp and Sweet Potato.
Skin and Bones is salmon skin filled with Wild Pacific Salmon and Sweet Potato.
Both are high in protein, low in fat, crunchy, tasty and all natural! $7.50
TREAT of the MONTH
Merrick Treat Combo- save 20%
Save 20% this month on a duo of Merrick Treats. You'll receive a 5 pack of Merrick Turkey Patties along with a tasty Texas Toothpick. Regular price $7.50, Club price $6.00
Interested in the special pricing on these treats? Become a Treat of the Month Club member- it's free! Just email us or mention it with your next order to sign up. Each month that you receive a delivery, the featured treat will automatically be added to your order. You'll save a minimum of 10% each time, and treats are no more than $6.00.