In this issue: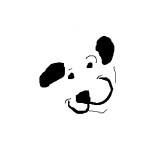 Your Special Offer
New Treatment for Hip Dysplasia
Hairball Control Using Sunlight
Using Glass to Heal Pet's Wounds
This month's Whole Dog Journal
Monthly Features
This month we get momentarily "distracted" by St. Patrick's Day. Try as we might, we're hard pressed to make a pet related connection to St. Patrick's Day, other than buying into the legend of banishing snakes or those illustrious little Leprechauns.
But we can all agree on one thing. Green is a universally accepted symbol of the day. And since we missed offering this to you in February, which was National Dental Health Month, let's celebrate with special pricing on Greenies this month!
YOUR SPECIAL OFFER
Your special offer gets you two bags of treats for the price of one, only while supplies last! These treats are short-dated (they have a March 2012 expiration date) but if you choose to make quick use of them, your dog certainly won't mind!
Natural Balance Roll A Rounds- Buy One Get One FREE!
These lamb based treats are half-dollar sized crunchy snacks that can be used for training or rewards. We have a limited supply of these 8 oz. bags, so if you're interested, let us know quickly and we'll hold or include them with your next order. Regularly sold for $6.25/ bag.
NEWS
Stem Cell Therapy for Hip Dysplasia
If you've had to deal with hip dysplasia (HD) with your dog, the video that follows may bring back some familiar memories.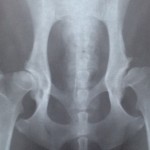 The most common methods of addressing HD are hip replacements or removal of the head of the femur bone. While invasive and expensive, both of these surgical procedures can be quite effective.
A new treatment option using stem cells now appears to be gathering popularity. The procedure is relatively simple compared to the traditional surgical alternatives, and uses the dog's own stem cells to help repair the injury. It remains to be seen how much damaged tissue, bone and cartilage the cells can regenerate, but early results have been impressive.
The procedure involves removing fatty tissue from the dog and extracting stem cells from the sample. The stem cells are then re-implanted in the same dog, where they incubate an anti-inflammatory environment and begin regeneration.  Read more and watch the video
Controlling Hairballs with Sunlight
The next time you're wondering how to best control your cat's hairballs, consider the following:
"Shedding, and the hairballs that result, is related to temperature and hours of daylight" according to Dr. Brent Mayabb, DVM.
Dr. Mayabb, manager of education and development at Royal Canin USA, was quoted last year in a recent article published in Pet Product News. He maintains that because indoor cats spend more time in warmer environments with long exposure to light, this can contribute to higher levels of shedding. Since indoor cats spend a considerable amount of time grooming, this leads to hairballs.
A quick research exercise turns up some confirmation of the relationship of light exposure to shedding. Read More
How Glass Can Heal Your Pet's Wound
If someone told you that they were about to cover your pet's wound with a layer of glass, would you let them?
Perhaps you'd think differently if you knew about RediHeal, a new type of sterile glass mesh with microbial properties. The glass is infused with nano-particles which mimic the structure the body uses to produce blood clots. This stimulates the body to produce new blood vessels and speed healing.
Similar to sutures used in human surgery for years, RediHeal is absorbed by surrounding tissue and dissolves over time, making removal unnecessary. The product has been used to treat wounds, hot spots and ulcers in pets.  Read More. . . 
This Month's Whole Dog Journal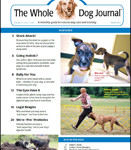 Included this month are articles on training a puppy not to bite, developing a holistic approach to your dog's health, reacting to a dog's bully behavior, the benefits of probiotics, and more.
If you'd like a copy of this month's edition included with your order, just let us know. Single copies are just $5.00, which represents a savings over the $5.95 cover price.
NEW ITEMS
Yaky Yam– these baked, crunchy treats from the makers from Himalayan Dog Chews were introduced to our clients at Woofstock last year. Made with yak and cow's milk, sweet potato, brown rice flour, chicken powder, chicken broth, salt and lime juice. Now a regular inventory item, this 8 oz. package can be enjoyed year round! $5.75
Himalayan Dog Chews– We've been carrying the Large 3 oz. size ($10.50)and are now pleased to be stocking the Extra Large 6 oz. size ($17.75) as well. Watch for the puffed Yaky Nuggets coming soon!
FEATURES of the MONTH
Cloud Star Soft & Chewy biscuits- Save 10%
Available in Chicken, Peanut Butter or Bacon & Cheese, these chewy biscuits are a healthy way to feed a soft treat. 6 oz. package Reg. $6.25, now $5.65
Greenies Dental Chews– Save 10%
Save on these 12 oz. packages of the popular dental chews in Petite, Regular and Large sizes. Reg. $18.25, now $16.50
WildSide Crunchy Salmon– save 10%
A crunchy treat made with Wild Alaskan Salmon, sweet potatoes, potatoes, cranberries, blueberries and Organic Kelp. 3 oz package Reg. $6.25, now $5.65
Reg. $6.25
WildSide Salmon– save 10%
100% freeze dried Wild Alaskan Salmon makes for an irresistible treat! 3 oz. package Reg. $11.75, now $10.75
TREAT of the MONTH
2 oz Ark Naturals Paws in the Pie- save 15%
These ridiculously aromatic flower shaped biscuits are a burst of bite-sized flavor! Fingernail sized treats are ideal for training or frequent rewards. Regular $6.75, Club Price $5.75
Interested in the special pricing on these treats? Become a Treat of the Month Club member- it's free! Just email us or mention it with your next order to sign up. Each month that you receive a delivery, the featured treat will automatically be added to your order. You'll save a minimum of 10% each time, and treats are no more than $6.00.