Your Special Offer | News | Features of the Month | New Products | Treat of the Month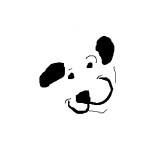 Greetings!
If you're reading this in the Seattle area, we hope you survived, and enjoyed (?), our recent weather event excitement. We're happy to report that all scheduled deliveries were completed as promised, with no slippery mishaps.
We hope to see you on Saturday, Dec. 4 for Woofstock 2010. Whether you're looking for photos, deals, info, or some social time with like minded pets and people, come join us between 12:00-4:00pm.
We've got some new treats and toys for your examination at Woofstock. We're very pleased to now be carrying some durable chew toys from Planet Dog, including their 4 inch and 6 inch Light Bulbs, Eggplant and Strawberry. A few other additions are outlined below.
Share a $5 Gift Certificate with a friend this month at no charge to you. Just ask for your certificate to pass along to a friend when placing your order.
Not ordering this month? We'll be happy to drop a Gift Certificate in the mail to you to pass along to your friend.
Either way, just fill in the name of your friend along with your own on the Gift Certificate, and pass it on!
Save 10% on any of the new items announced in this month's newsletter!
Just in case you're not able to attend Woofstock, we don't want you to miss out. As an eMuse subscriber, you can save 10% on any new treats or toys announced below. Be sure to mention eMuse when you place your order to get the discount!
Woofstock this weekend!
Just in case you missed the news. . . join us for Woofstock 2010 this Saturday, Dec. 4 from 12-4pm. If you've not had the pleasure of playing at our annual Open House before, you're in for a treat. If you have attended, you'll again find great savings (up to 50% off!), no Sales Tax, photos with or without Santa, informative reps from local and national companies, free spins on the Prize Wheel, free samples, yummy munchies and more for you and your pet. Five percent of all sales will be donated to Old Dog Haven, PAWS and Just Frogs, Toads Too Amphibian Center.
An Edmonds Interview
A colleague of ours was kind enough to feature Smiley Dog as part of his unique tour thru Edmonds. You can catch the short video as part of 365 things to do in Edmonds on Day 61 or on his Edmonds365 Facebook page.
Curious about Fatty Acids?
You may have been hearing talk about Essential Fatty acids (EFAs), fish oil, or Omega-3 and 6 oils. Curious about what it all means? You can read a brief introduction to these important nutrients on our website at Some ABCs of EFAs.
Merrick treats– save 10%

Save 10% this month on our collection of Merrick treats, including Texas Toothpicks, Texas Taffy, Phat Flossies and Steak Patties!
Precise 30 pound Foundation– save $5.00
Grab a 30 lb. bag of our best selling food for a very special price! We normally stock the 40 lb. size, but a special purchase this month makes this size available to you for just $35.75, (Reg. $40.75), Grab one while they last!
Merrick canned food– buy 5, get one Free
Mix or match from any of the 10 formulas we currently stock. Buy 5 cans, get one FREE. Your discounted price reflected in the Shopping Cart will be applied when 5 or more cans are purchased. Choose from Campfire Trout, Cowboy Cookout, Grammy's Pot Pie, Mediterranean Banquet, Smothered Comfort, Thanksgiving Day Feast, Turducken, Wild Buffalo, Wilderness Feast, or Wingaling.
Fat Cat Organic Catnip– save 20%
Save 20% on a 1/2 ounce package of Zoom Around the Room Organic Catnip. Now just $2.25
We've got some new and tasty treats which will be featured as upcoming Treats of the Month. You don't have to wait until then, though. . . they will all be available at Woofstock!  And, in case you missed it, you can save 10% on ANY of the treats or toys listed in the following New Products section this month!
Planet Dog 6 inch Red Bulb– The Bulb is made from Orbee-Tuff® material, which makes it doggie-durable, buoyant, bouncy and mint-scented. It can be stuffed with treats, or. . . holiday leftovers.  The toy rinses clean, is non-toxic and recyclable. Made in U.S.A. ($10.75)
Planet Dog 4 inch Green Bulb– as described above, this smaller bulb is ideally suited for small to medium sized dogs. Both sizes are recommended for average, not aggressive, chewers. ($8.75)
Planet Dog Eggplant– Another unique chew toy from Planet Dog, this 5 1/4 inch eggplant can also be stuffed, rinses clean, is bouyant, bouncy and durable. Since we all know eggplants are more durable than light bulbs, this toy is suitable for moderately aggressive chewers. ($14.75)
Planet Dog Strawberry– the final selection of our new Planet Dog collection, this 3 inch berry is also suitable for moderately aggressive chewers. Stuff it with your dog's favorite fruit, or just stare at it and think about summertime! ($10.75)
PetLou Monkey Sticks– It's been a while since we found some interesting and rather LARGE toys, but these Monkey Sticks certainly fit the bill. These plush squeaking, intriguing looking toys are available in 20 inch ($14.00), 26 inch ($14.75) and. . . . . 45 inch ($28.50) We dare you to take a look at the 45 inch Monster Max and keep a straight face!
Zuke's Lamb Jerky Naturals– these moist squares are a healthy alternative to dry dog biscuits. They contain only 17 calories per piece, and are free of wheat , corn, soy, artificial colors, flavors and by-products. 6 oz.- $6.25
Plato Duck Strips- an all natural treat containing more than 90% duck. This hypoallergenic treat is ideal for dogs with allergies, is naturally high in iron and fortified with Zinc, vitamins E and C. 6 oz. – $7.75
Dogswell Vitality Bacon & White Cheddar biscuits- save 17%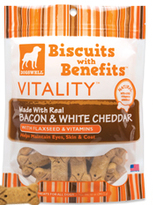 Enjoy a 10 oz. package of these natural biscuits, made with real Bacon and White Cheddar Cheese! Reg. $6.00, Club price $5.00
Interested in the special pricing on these treats? Become a Treat of the Month Club member- it's free! Just email us or mention it with your next order to sign up. Each month that you receive a delivery, the featured treat will automatically be added to your order. You'll save a minimum of 10% each time, and treats are no more than $6.00.