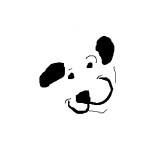 In this issue:
A New Year's Wish for You
Your special offer
Monthly Features
Treat of the Month
We'd like to be among the first to wish you a peaceful and relaxing start to the New Year!
We've all been a bit overloaded by the dozens of "Best of 2013" lists floating around. Rather than look back at what's happened, we'd prefer to look forward to what's ahead.
This month's newsletter is a bit sparse on news, but we'll be making up for that as the month moves on. Look for updates on the upcoming publication of The Dog Food Detective, the first Seattle Pet Expo and some new products to be uncovered at the first supplier Open House of 2014 at the end of this month.
Once again, we offer our sincere thanks for your loyal support. Please share your experience with your friends so we can continue to offer the products and service you've come to depend upon. If you or they would like a 2014 calendar, just let us know.
Best woofs to you and yours!
YOUR SPECIAL OFFER
Take advantage of the limited Carna4 offering and receive a FREE package of Carna4 biscuits!
Intrigued by the new whole-foods based Carna4 kibble? As an eMuse subscriber, you'll receive a FREE bag of Carna4 biscuits when you take advantage of this month's limited Carna4 offer.
See offer details below. Remember to mention the eMuse offer to receive a FREE bag of biscuits if you order this before supplies are gone!
FEATURES of the MONTH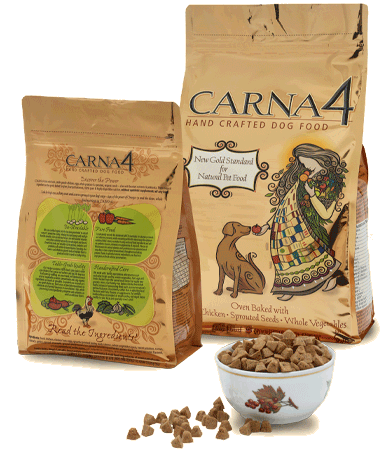 Buy a 6 pound bag of Carna4 ($42.50) and get a 3 pound bag at half price (regular $22.75)!
A special purchase has given us a very limited supply of these bags to be offered as an introduction to this whole foods based formulation. Don't miss out on this very limited opportunity. When they're gone, they're gone!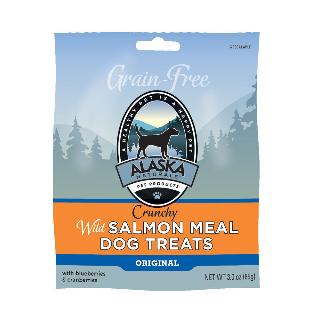 Grab a 3 oz package of these crunchy salmon treats at a special price this month. These grain-free treats also contain sweet potato, blueberry and cranberry. Regular $5.25, now $4.50
We'll all most likely be inside more than outside this month. Why not toss a squeaking version of your dog's favorite tennis ball around?   Regular $2.00, now $1.70
It's back! This was so popular last month we'd like to share it with you once again!
A sampling of tasty canned food from this new line is offered at a special price this month. Give your dog some variety as a treat, topper or regular part of mealtime.
You'll receive one 13 oz. can each of Country Best Pork, Chicken Coop, Rainbow River Salmon, Shepherd's Choice Lamb, Turkey Trot and Western Plains Beef. Regular $15.30, now $12.25
TREAT of the MONTH
24 oz. by Nature Mixed Berry biscuits- save 20%
A full pound and one half of crunchy, all-natural, wheat free mixed berry biscuits made with cranberries and blueberries. Just 40 calories per cookie. Regular $7.50, Club Price $6.00
Interested in the special pricing on these treats? Become a Treat of the Month Club member- it's free! Just email us or mention it with your next order to sign up. Each month that you receive a delivery, the featured treat will automatically be added to your order. You'll save a minimum of 10% each time, and treats are no more than $8.00.