Update August 2015:
We are pleased to announce that Orijen and Acana foods are once again available for delivery to pet parents in the Seattle area!
The full line of Champion products, including all Orijen and Acana dry, freeze-dried and treat products are available for delivery. While not all items are kept in stock, any that are not can usually be available for delivery within one to two weeks.
We're grateful to our clients who have shown patience and understanding over the past few years as we worked to bring back this excellent line of food. The alternatives listed on this page remain available and are now joined by the current Orijen and Acana formulas.
The following was originally posted in September 2014:
This summer we met with representatives from Champion Pet Foods. We were disappointed to learn that the company would no longer allow Smiley Dog to sell their products. The decision, a result of "policy" to support only brick and mortar stores, came as both a surprise and shock. It is particularly disappointing since the "policy" is not being enforced consistently.
While Orijen and Acana are both excellent dry foods, they are certainly not the only choices available. Since they are no longer available for delivery, we've prepared a list of alternatives for you to consider.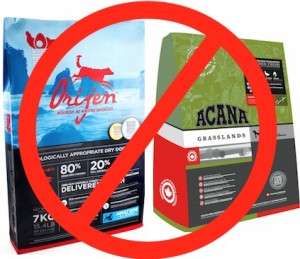 While there are no exact replacement formulas offered, there are a number of similar alternatives. This list will be continually updated as new foods are introduced. We invite you to consider these options, and contact us for additional information.
If you would like to try one of these alternatives, ask us about special "Cheerio Champion" pricing on your first bag to help ease your transition from Orijen and Acana.
We've selected these alternatives based on 4 separate criteria:
How closely does the ingredient mix match the formula to be replaced?
How closely does the Guaranteed Analysis match the formula to be replaced?
How do the calories of each compare to the formula to be replaced?
How does the digestibility of each compare to the food to be replaced?
All of these grain-free alternatives are similar in formulation to the food they are intended to replace. Some have a bit more protein or fat, others have less. Some offer Frequent Buyer programs, others do not.
How to use this list:
Find the name of the Champion Pet food you're currently using. Click the link of an alternative food listed below it to see the manufacturer's site.
We can help narrow down the options based on your preferences. Whether it is a specific or combination of proteins, price or other priorities, let us know what's important to you.
When comparing prices, keep in mind both bag size and feeding guidelines of each food. These vary between brands, and a less expensive food may actually cost you more over time. We can help you understand your true cost as you consider the options.
How to to try the new foods:
Many of the alternatives listed are available for immediate delivery. Any foods or sizes not currently in stock can usually be at your door within 1-2 weeks. Remember to ask for your special "Cheerio Champion" pricing when you switch from Orijen or Acana.
Contact us to chat in more detail about how and why each of these alternatives are being suggested, as well as how they compare in cost.
If you are currently feeding Orijen Adult, some options to consider are:
Canidae PureElements
Earthborn Holistic Primitive Natural
Go! Fit & Free
Innova Evo
Now! Adult
NuLo Turkey
Solid Gold SunDancer
Tuscan Naturals Carne
Wellness CORE
Wild Calling Rocky Mountain Elk, Whitefish & Turkey
Zignature Zssential
If you are feeding Orijen Senior, some options to consider are: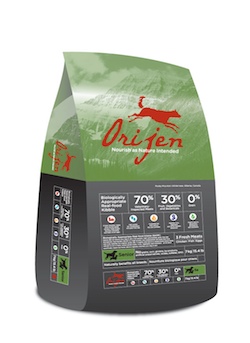 Go! Fit & Free Adult
NuLo Senior
Wellness CORE

If you are currently feeding Orijen Six Fish, some options to consider are: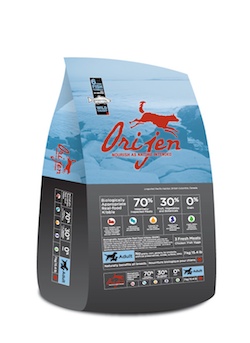 Canidae PureSEA 
Now! Grain Free Fish
Taste of the Wild Pacific Stream
Ultramix Salmon
Wellness CORE Ocean

If you are feeding Orijen Regional Red, consider: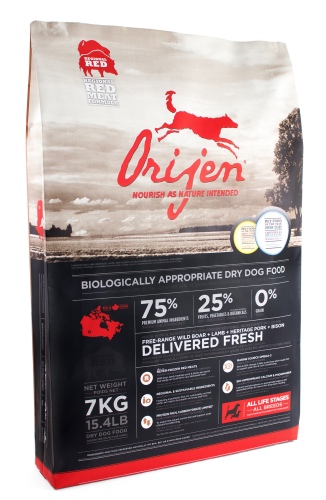 Canine Caviar Wilderness
Earthborn Great Plains Feast
Evanger's Meat Lovers Medley
Innova Evo Red Meat
Innova Prime Beef & Lamb
Merrick Pork & Sweet Potato
Taste of the Wild Southwest Canyon

If you are feeding Orijen Cat, consider: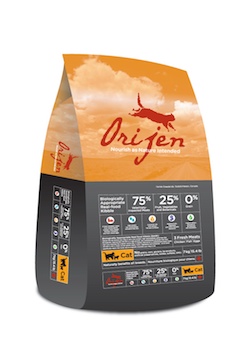 Felidae PureELEMENTS 
Innova Evo Cat
Now! Adult cat
If you are feeding Acana Grasslands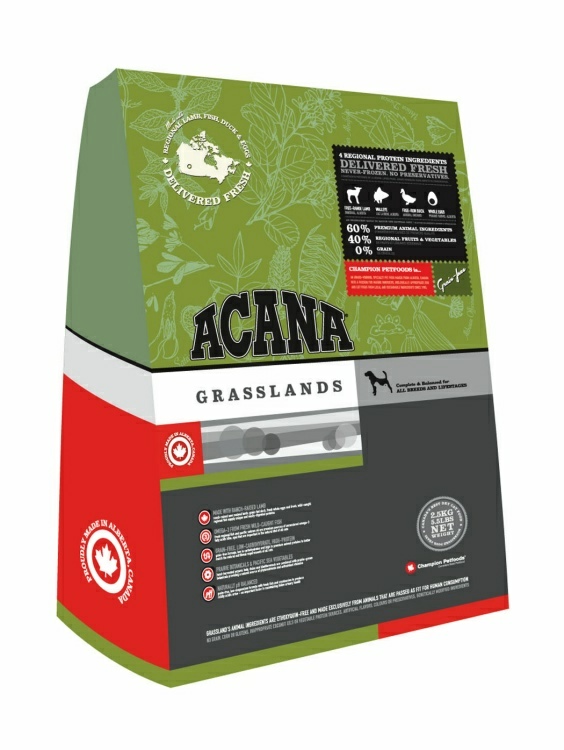 There are no options which combine lamb, fish, duck and eggs. The following alternatives contain at least 3 of these four protein sources:
Lotus Duck
Natural Balance Alpha formulas 
Nutrisource Lamb
Taste of the Wild High Prarie
Wild Calling Duck, Salmon & Lamb
If you are feeding Acana Wild Prairie, some options to consider are: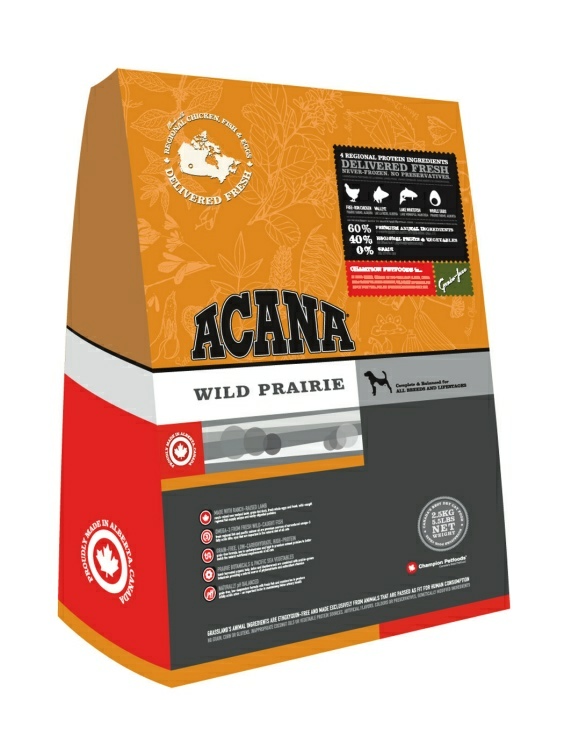 Canidae PureElements
Earthborn Primitive Natural 
Go! Fit & Free Adult 
Innova Evo
Merrick Chicken & Sweet Potato
Pinnacle Turkey
If you are feeding Acana Chicken and Burbank Potato, some options to consider are: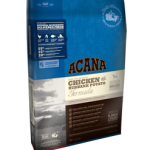 Farmina Chicken & Pomegranate
Kasik's Free Run Chicken
Lotus Chicken
Spot's Stew Chicken
And some other interesting, grain free, mixed protein dog formulas to consider:
Blue Buffalo Wilderness Rocky Mountain Red Meat (Beef, Chicken, Turkey)
CORE Wild Game (Duck, Lamb, Turkey, Wild Boar, Rabbit) 
Fromm Game Bird (Duck, Turkey, Quail, Pheasant, Chicken)
Fromm Surf & Turf (Salmon, Duck, Chicken)
Now! Adult and Now! Large Breed Adult (Turkey, Salmon, Duck)
NutriSource Heartland Select (Bison, Chicken, Fish)
Wild Calling Trout, Lamb & Turkey
Finally, some excellent quality, single protein grain free mixes (next best thing to raw!)
Honest Kitchen dehydrated mixes (beef, chicken, turkey, and salmon)
Grandma Lucy's freeze dried mixes (Bison, Chicken, Lamb, Pork, and Venison)
SoJos freeze dried mixes (Beef or Turkey)