In this issue: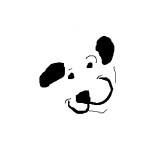 Your special offer- canned food $20.12/ case
Food Pricing Adjustments
PAWS Donation from Woofstock
Dog Food Recalls linked to Corn
A few new things
This month's Whole Dog Journal
Monthly Features
Another year gone. Another year begun. We're grateful to welcome in the new year, and look forward to helping you and your pets in the coming months.
This year brings the start to something we never dreamed we'd see- the start of Smiley Dog's 20th year. For a venture that was initially intended as something fun to do on the side, I suppose we must be doing something right!
Much has happened since we started trotting around the city with toys and food. Banks, phone companies, suppliers and competitors have all come and gone. A little thing called "the internet" came along and shook things up just a bit. Pagers made way to cell phones and then smart phones. Politics has devolved into dysfunction and we've seen some of our clients open their homes to a 3rd and fourth generation of pets. Quite a ride it's been.
Though it all, we've remained focused on providing dependable delivery of healthy foods in an attempt to make your life just a bit more convenient. In our small way, we think we must be doing some things right, since we're still here in the midst of monumental changes.
But above all, we owe our success to you. Yes, You. And for that we are truly grateful. We wish you a successful and rewarding year, whatever your goals!
YOUR SPECIAL OFFER
New Year's Case o' Cans- save more than 25%
Your special offer this month is a New Year's case of 12 assorted canned foods for just $20.12. Treat your pet to a variety of new flavors at a very special price.
The dog food assortment includes by Nature, California Natural, Canidae, Dogswell and Natural Balance. The cat food assortment includes Tiki Cat, Precise, Evo and Wellness. Variety may change according to stock on hand.
Be sure to ask for your eMuse New Year's cans when you place your order!
NEWS
Pet Food Manufacturers Raising Prices
A new crop of pet food manufacturers have announced price increases will take effect early this year.
Price Protection for Auto-Delivery clients will minimize these increases for the next month. If you'd like to learn more about this or other benefits of auto-delivery, or place an early order at current prices, just let us know.
Natura adjusted pricing late last year, which included Innova, Evo, Healthwise and California Natural products. Answers Pet Food announced an increase early last month, as did Royal Canin.
Bravo, Castor & Pollux, Evangers, Precise and Orijen will be implementing increases this month.
Nutro has announced that they will be downsizing their 35 lb. and 17.5 lb bags to 30 lb. and 15 lb. respectively. We'll be updating our website and pricing once the new sizes begin shipping. Read More. . .
Woofstock Raises Money for PAWS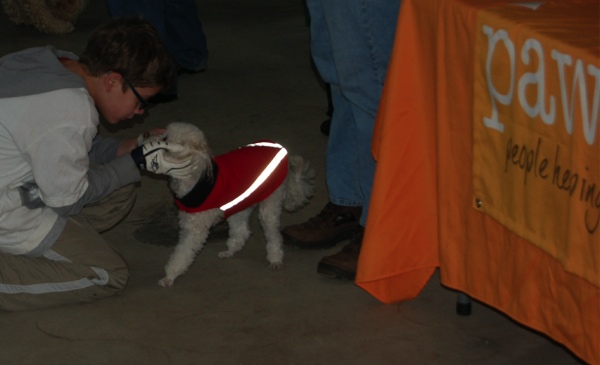 If you were able to attend Woofstock last month, you may have participated in our Silent Auction to benefit PAWS. We're pleased to announce that the event raised more than $500 !
Thanks to the wonderful participation of Smiley Dog clients this was considerably above what the event has been able to raise in previous years.
In addition to the monetary contribution, more than 300 pounds of food and treats were also donated from the event's food bank. Read More. . .
Does Your Pet Food Contain Corn?
In recent weeks, a small number of pet foods containing corn have implemented recalls. Each of these foods were low quality formulas, which contained corn with high levels of aflatoxin. A list of the recalled foods appear at the end of this article.
Aflatoxin has been responsible for a few previous pet food recalls. It is a mold which can cause liver or kidney damage when consumed in large quantities. Pets consuming excessive levels of  aflatoxin may exhibit symptoms which include lethargic behavior, a reluctance to eat, vomiting, yellowish tint to to the eyes or gums or diarrhea.
If the food you are currently feeding contains corn, we suggest you keep your eyes and ears open for an expansion of this recall. Because of the global nature of ingredients, it can be difficult to determine which manufacturer is using which ingredients from a particular source. What began as an isolated case with one food has now spread to a handful. Read More. . .
This Month's Whole Dog Journal
Included this month are articles on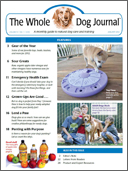 best "dog gear" of 2011, benefits of apple cider vinegar, and how to give your dog a home health exam.
Also included are features on getting involved in dog volunteer work, interactive dog toys, and the best freeze dried and chew treats.
If you'd like a copy of this month's edition included with your order, just let us know. Single copies are just $5.00, which represents a savings over the $5.95 cover price.
NEW ITEMS
Soft & Chewy Buddy Biscuits


Now available in Chicken, Peanut Butter and Bacon & Cheese. Duck, Lamb and Sweet Potato available by special request. 6 oz. package $6.25
Squeaker Mats


An intriguing collection of animal shapes make these new squeaker mats a bit of a change from the plan square shapes of the past. Choose from a squirrel, wiener dog or hedgehog.
FEATURES of the MONTH
Save 10% on Jones 20 piece Variety Treat Bag


Enjoy a variety of different treats in this assortment, including  pig ear slices, bully stick pieces and bones. Regular price $10.75
Save 15% on Invincibles


These colorful furry snakes feature self-healing squeakers which keep on working even after being punctured. Choose from Small 3 squeaker ($12.75) or Large 6 squeaker ($18.75) toys.
10% off MegaLast Toys from JW Pet


These fun toys are made from a durable yet flexible rubber with a built in squeaker. Ideal for dogs that love to squeak a more firm texture than plush toys. Choose from Dog or Bear shapes in Medium or Large. ($5.00-$8.00)
TREAT of the MONTH
Smiley Dog Liver Yummies– save 12%


What better way to ring in the New Year than with a perennial favorite treat! This 3 oz resealable bag of dried pork  liver is ideal for a variety of uses. Lightweight and easy to break into small pieces as a training aid, or use larger pieces for a high-protein, low fat treat. Regular $6.25, Club Price $5.50
Interested in the special pricing on these treats? Become a Treat of the Month Club member- it's free! Just email us or mention it with your next order to sign up. Each month that you receive a delivery, the featured treat will automatically be added to your order. You'll save a minimum of 10% each time, and treats are no more than $6.00.