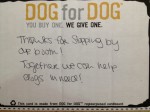 When was the last time you received a handwritten thank you card?
We were surprised to receive one today from a vendor whose product we picked up at SuperZoo earlier this month. It reminded me that of a bit of a story behind one of the company's products. It's the story of a Vegas adventure you won't find anywhere but here.
But first, a bit about the products from Dog for Dog.

They offer Dogsbars, an energy bar in both Peanut Butter and Blueberry flavors. The bars are made with organic ingredients and are intended for your dog. One look at the ingredients, and you may be tempted to try one yourself. We have.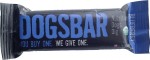 Their other product is Dogsbutter, a specially formulated peanut butter for dogs. The twist on their products is the philosophy behind the company. For every jar of Dogsbutter or Dogsbar sold, the company will donate a Dogsbar to a dog in need. It's an interesting product matched with a noble concept which we're happy to support.
Dogsbars are now available to add to your next delivery order. If you'd like to try the Dogsbutter, let us know. We're contemplating bringing this in to sample at Woofstock.
You may find the story behind our intended sample jar of Dogsbutter a bit of a diversion. Happy reading!