An ad playing on a screen the other day caught my ear and made me smile.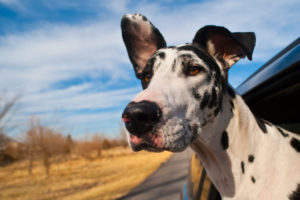 Without coming flat out and saying their product was the absolute best, they successfully cast their competitors as inferior by posing the question… "why drive a car when you can drive a CADILLAC?!"
The claim was implicit. Cadillac is the best, and everything else is just… a car.
You could practically feel the contempt dripping from the announcer's voice.
Watch enough pet food commercials and you'll see a similar attitude
When improving the nutritional quality of your dog's food is the primary reason for a change, it's best to ignore marketing messages. Most pet food ads position their product as uniquely formulated delicacies which address the nutritional needs of your pet unlike those other options which are just… dog food.
They may pitch real meat as the first ingredient, proprietary colorful bits, cute shapes, splash images of fresh ingredients from family farms and other enticements to hold our interest. Trouble is, there really is no such thing as the "best" food for all dogs.
Although there may be a "best" food for your dog, there are far more similarities than differences among foods. What truly distinguishes one food from another is its nutritional quality and acceptance. So how can we judge if one food is nutritionally better than another?
To better judge how pet foods compare, some initial questions should be considered
These questions help set and keep you on the path to determining what may be appropriate for your dog without getting sidetracked:
will you limit the search to a particular form of food?
are there any particular protein preferences or exclusions?
are there any brand preferences or exclusions?
do you want to avoid GMO or foreign sourced ingredients?
do you want a single or mixed protein food?
will you rotate foods?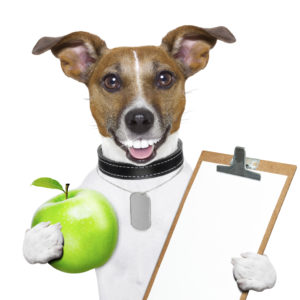 Deciding on the form of food(s) to consider is easily the most challenging question to consider. In our opinion, there is no quicker way to increase the nutritional quality of your dog's food than to begin to feed a raw diet. This can be done either as a sole diet or supplement.
Feeding raw can be done in a variety of ways. Some require a bit of forethought to ensure what's needed is thawed and ready each day. Other approaches to raw feeding require a quick mix of dehydrated or freeze-dried food with water. Although your feeding routine will change when incorporating raw into your dog's diet, it can be well worth the effort.
Good quality canned food can also step up the nutritional value of your dog's meals. While not as huge a leap forward as raw, adding canned food to the daily diet can easily improve the nutritional value of the best quality kibble.
Once you've settled on a food form, let history be your guide
When you've had good or bad results from a particular protein in the past, this history can influence the direction your search takes. The same applies to any past experience you have had with a particular brand.
You can choose to feed a single or mixed protein formula, or rotate between a variety of proteins. Feeding a single protein is easiest to address if a sensitivity develops over time.  Simply changing the protein source often eliminates the problem.
Rotating single protein formulas is another good option to consider. Rotating proteins provides a broader nutritional spectrum over time since each protein contains a different balance of amino acids. Rotating also minimizes the possibility of a protein sensitivity developing over time since it is not the sole protein fed. If a sensitivity does develop, simply remove it from the rotation.
Mixed protein foods offer the benefits of rotating without having to keep track of what proteins are in the mix. Mixed protein formulas can be nutritionally superior to single protein formulas. The downside to feeding a mixed protein formula presents itself if a sensitivity develops. It then becomes more difficult to determine which protein(s) is responsible for the problem.
There's no right or wrong answer in choosing whether to feed a single or mixed protein food, or rotate among formulas. It's a personal preference that should reflect what makes sense to you and can easily be incorporated into your daily routine. Once this choice is made, it's time to dive into the ingredients.
Evaluating ingredient quality and digestibility are key to comparing  food choices
The first 6 ingredients listed on a pet food bag are the simplest indication of nutritional quality. These will inform you if the food uses whole or fractioned ingredients, whether the primary protein source is plant or animal, and indicate whether a closer look is necessary.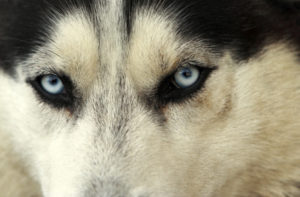 While the ingredient names offer an initial insight into the food's quality, the next question to consider is ingredient sources. Many better quality foods have trusted suppliers who provide ingredients of a consistent quality and source. Other foods may source ingredients as commodities based on price.
It can be challenging to track down ingredient sources, but it is worth the extra effort. Often, a quick call can answer the question if the information does not appear on the manufacturer's website. Inquiring about ingredient sources is particularly important when trying to avoid ingredients from certain countries or GMOs.
When a manufacturer is unwilling (or unable) to reveal sources for their main ingredients, that's typically an indication of inconsistent sourcing based on availability &/ or price. Better quality food manufacturers are proud of the relationship they've built with their suppliers and will willingly share that information.
Better quality ingredients also indicate better digestibility of a food
The digestibility of a food can be measured scientifically through feeding trials or chemical nutrient analysis. Very few pet parents are in a position to employ either of these methods. So what are we common folk left to do?
Fortunately, there are two tricks that offer essential information about digestibility. One is sometimes hidden on pet food bags, while the other is easily discovered on every bag.
A few foods actually document the digestibility achieved through feeding trials or analysis on their bags. Other may bury that information on their website. A food that is 90% digestible will typically be nutritionally superior than a food that is 87% digestible when the protein sources are the same.
When comparing digestibility numbers, keep in mind that all proteins are not equally digestible. Organ and muscle meats are usually more digestible than fish. This simply means that comparing a chicken-based food to a fish-based food may produce skewed results if the digestibility percentage is the only piece of information being used.  
The simplest way to evaluate digestibility is with feeding guidelines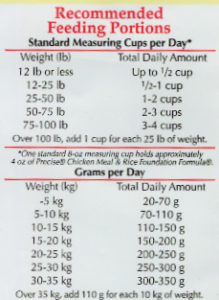 Feeding guidelines are found on every bag of pet food. These often overlooked numbers show how much food is required to provide the recommended daily nutrients for your dog. Although these are a simple guideline, they can be used to compare digestibility between foods.
Lower feeding guidelines indicate a higher digestible food. When less food is needed to provide the required daily nutrition, that translates to better digestibility. Since digestibility is directly related to ingredient quality, better ingredients also mean less food needs to be fed.
Improving the nutritional quality of your dog's food this way will likely save you money over time, as well as save effort from picking up less poop.
  We saw in last month's post that a common side effect of moving to a more digestible food is often softer stools. Use the feeding guidelines as a starting point and adjust from there. Remember to compare the guidelines of your new food with the old. Don't be concerned if your new food requires less. If you sneak a bit more into the bowl before you're certain it's necessary, you may discover those softer stools for yourself!
Improved nutrition goes hand in hand with improved performance
Many of the reasons for looking to improve nutrition or performance are closely related. The process for approaching each is similar and often overlaps.
Whether you're considering a change of food for better performance or to improve the quality of nutrition, your primary goal remains the same- improving the diet for your dog.
The next time you see or hear a manipulative marketing message, you may be entertained but not influenced by the pitch. You'll know if the food is formulated like a Cadillac or a Yugo despite its shiny presentation.
But sometimes there's a third factor that forces some higher quality options out of our consideration.
Next month we'll look at what can prevent some of those "Cadillac" choices from being considered… the ever important factor of finances.
Shameless promotional plug: If you're intrigued by the idea of rotating proteins but consider it to be too complicated to keep track, you're in luck! Smiley Dog can develop a rotation diet plan with you and keep track of which food arrives at your door each time. There's nothing for you to manage except to let us know if a particular protein should be taken out of the rotation.
Click here to review Part 1- Changing Food to Improve Performance