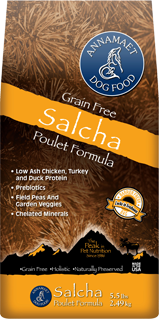 Two years ago we wrote about Annamaet, an interesting food that had been around for quite some time but had not yet made it to the West Coast.
We're pleased to announce that Annamaet is now available by special request. Any orders placed by May 15 will be filled at 15% off!
Annamaet compares favorably to Orijen Adult at a lower cost
Annamaet offers a line of both grain-free and whole grain formulas. The grain-free Salcha Formula is made with Chicken, Duck, Turkey and Salmon and compares favorably with Orijen Adult.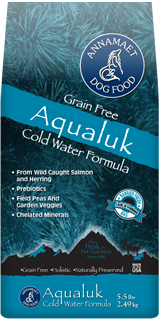 Annamaet Salcha is slightly lower in both protein and fat than Orijen Adult, but also lower in fiber and ash. Both foods use chelated minerals to increase absorption, and both share similar feeding guidelines.
Annamaet also offers Aqualuk (Salmon & Herring) Lean ( low-fat chicken, duck & herring) and Feline grain-free formulas. All Annamaet grain-free formulas are available in 5 lb, 15 lb or 30 lb bags. Samples are also available for the asking.
You can read about the entire line at the manufacturer's website.