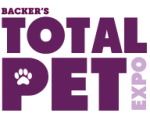 When was the last time you had the opportunity to take a break from the daily routine and escape with an adventure into the  unknown? I was fortunate enough to be able to do that by attending the TotalPet Expo trade show last week in Chicago.
A Trade Show gathers hundreds of manufacturers, retailers and information in one place. It's an opportunity to spot new products months before they appear on the market (if ever) and questions can be answered directly from the source.
This year's adventure was a bit different from previous years
I decided to skip the annual trek to SuperZoo in Las Vegas earlier this summer, and head back to revisit the first Trade Show Smiley Dog had attended more than a decade go. My recollection was 500,000+ square feet of stimulation bordering on overload.
The show is still big, but not nearly as intimidating as that first experience. As with just about every show, there were some standouts. And in what appears to be an emerging trend, there were also some standout personalities.
One of the standouts almost got overlooked

The first time I passed by the package of Sliders treats, it barely caught my eye. My bias immediately associated Sliders with greasy junk food, which was not of interest at all. But the picture on the label was catchy enough to encourage a second look. That's when I saw that the treats had won an award at the Vegas trade show earlier this year.
Hmmmmm. A quick look at the ingredients panel shows these are no ordinary treats. There are two flavors, Beef and Chicken, each in a crunchy and a soft, chewy version. Their TenderStikz are an easy way to sample the chewy treats.
Both are whole food based, use no preservatives, and the soft treats are made without glycerin. The company has an interesting name, Clear Conscience Pet, which has a great story behind it. And they also have a gravy palatability enhancer, Super Gravy, unlike any on the market.
It wasn't until the second day of the show that I had a chance to review some of their literature in detail. The philosophy behind their products is healthy, sound, and uniquely welcome. Turns out the founder of the company, Anthony Bennie, has an established nutritional background. He worked with Natura as it was launching itself as a company with Innova and California Natural, and parted ways well before its sale to Procter & Gamble. Their website has some wonderful information, but their products have not appeared in our area.
That's about to change.
Next month's Treat of the Month will include a 1/4 oz. Beef & Cheddar TenderStikz as part of the offering. For those of you not enrolled in the Treat of the Month Club, these sticks will be a featured item next month for you to try.
Samples of Super Gravy are available for the asking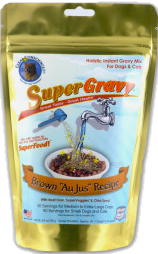 What makes Super Gravy stand out is its ingredient list. Far more than a simple palatability enhancer, each scoop of SuperGravy powder contains organ meats, organic raw veggies and chia seed. Simply sprinkle it over the dry food in a bowl and add a small amount of warm water. This quickly give a nutritional boost to any dry food by moistening with nutrients, not just water.
SuperGravy can be used as an alternative to canned food when mixed with kibble. It also helps with the hydration of your pet, since it encourages the consumption of the water used in making gravy. Hydration is a critical, and often overlooked, part of digestive health.
I'm hoping we'll see some of the treats become available within the next few months. While they are a bit more expensive than  other treats available, their ingredients, and the philosophy behind their formulation more than justify the price.
Another show standout is also unavailable in this area
Annamaet dog food has been around for almost 30 years, and is still owned by its original family. The formulations have changed very little since their beginnings, although they have introduced a few new grain- free options.
I enjoyed listening to founder Rob Downey talk about his journey with the food, a changing market, and mushing in Alaska. It was encouraging to meet another pioneer who is focused on ingredients, quality and consistency instead of market trends and profit.
Annamaet is not heavily advertised, and you may never have heard of the food. If it does become available in this area, it could very well offer an exceptional value to some of the lager, more established formulations produced by larger corporations.
And if you happen to have the good fortune to run into Mr. Downey, be sure to ask him about his adventure with the Moose that appears on every bag of Annamaet!
Click here to learn about some of the other goodies coming back from the Show.