In this issue: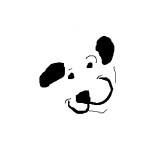 $10 Gift Certificate is Free for your friends!

Website and email issues resolved

New packaging for Steve's Real Food

Diamond closes South Carolina manufacturing plant
Merrick pet food acquires Castor and Pollux
This month's Whole Dog Journal
Monthly Features
YOUR SPECIAL OFFER
You appreciate the dependable convenience that Smiley Dog brings with each delivery. Would you like to share that with your friends with hardly any effort on your part? Give them a free Gift Certificate!
Just ask to have a $10 Gift Certificate included with your next order. We'll drop off a brochure and certificate personalized with your name which you can pass along to any of your friends who are not currently Smiley Dog clients.
Pass along some peace of mind to your friends by sharing the joy of Smiley Dog!
NEWS
Tech Challenges Resolved
Over the past 3 weeks, we've been chasing our tails while working through a collection of online challenges. Our email, website and shopping cart has repeatedly been disabled as a result of some unfortunate hosting issues. If this has inconvenienced your attempts to contact us, we sincerely apologize.
Fortunately, as of this weekend, the last of these issues have been resolved. We expect the result will be a faster and smoother experience when using our website or shopping cart. Read More. . . 
New packaging for Steve's Real Food available now
Late last year, Steve's Real Food for Dogs announced new biodegradable packaging.
The company has now begun to ship the new biodegradable replacement for its 10 pound bags. The new packages consist of of its new, compostable bags packaged inside a cardboard box. The package weight has dropped to 9.75 pounds, while the price per pound has remained the same.
This is a rare instance where a size decrease has not resulted in a price increase! You will see the new packaging arriving at your door by the end of this month.
Diamond halts production at South Carolina plant
Early last month, Diamond Pet Food announced a recall of a single production run of its Lamb and Rice dog food. The food, produced in its Gaston, South Carolina manufacturing plant, had the potential to be contaminated with salmonella.
These bags had specific manufacturing codes and a "Best By" date of January 3, 2013 and January 4, 2013. A complete listing of these can be found in the company's announcement.  None of these bags were destined for Washington state, but may have ended up here through third party retailers.
Diamond has now announced that it is suspending all production at the Gaston, SC plant. Read More. . . 
Castor and Pollux Acquired by Merrick
Merrick Pet Care announced last month that it has purchased Castor and Pollux, a natural pet food manufacturer based in Clackamas, Oregon.
Castor and Pollux is best known for it's Organix and Ultramix pet foods. Organix was the first food for dogs and cats to meet the USDA's National Organic Program requirements. There has been no word of any impending changes to the formulations. Manufacturing will be moving to the Merrick plant in Amarillo, Texas.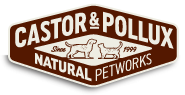 This is the most recent pet food industry consolidation since Procter and Gamble purchase Natura in 2010. The full text of the company's press release can be found here.
This Month's Whole Dog Journal
Included this month are articles on How to teach young children to get along with dogs, Making dehydrated dog treats, Canine diabetes, Understanding leash aggression, Improving digestion with enzymes and more.
If you'd like a copy of the Whole Dog Journal included with your new order, just let us know. You'll save 15% off the cover price of  $5.95. Smiley Dog's price is just $5.00.
FEATURES of the MONTH
Material Dog toys- 15% off


These toys have long been a favorite of ours. Unfortunately, the manufacturer has changed the fabric being used for the toys currently being produced. The new fabric, while attractive, no longer meets our standards for durability. We're closing out our remaining stock of the older fabric.
Choose from Beaver (new fabric), Duck, Frog, Snake, Squirrel and Teddy Bear (new fabric). Prices range from $3.75- $10.75
Save up to 15% off Merrick Texas Toothpicks


These chewy treats are a nice alternative to pig ears and a less expensive alternative to beef chews. These are all-natural beef tails and are sold individually or in packages of 12. Pick up a dozen and get an extra 5% off! Regular $1.75 each, 12/ $20.75, now $1.60 each/ 12/ $17.75
Pet 'n Shape Peanut Butter/ Blueberry and Strawberry treat- save 10%

An all natural, freeze dried healthy treat packed in a 2 oz. reseal bale package. Offer these to your dog or cat whole, or crumble over food as a new flavor enticement. Regular $6.50, now $5.75
10 pound Beef Steve's Real Food- save $5

We have just one of these 10 pound bags of raw food remaining in stock at this price! Now that Steve's is shipping the new packaging, we're clearing out the freezer to make room. First come, first served! Regular $43.75, now just $38.25
TREAT of the MONTH
Zuke's Health Nutz biscuits- save 19%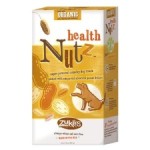 Save 19% on this 14 oz. box of crunchy peanut and almond treats. These treats are wheat and corn free, made in the USA. Ingredients: organic ground oats, organic ground barley, peanut butter, potatoes, oat fiber, organic blackstrap molasses, oil blend (sunflower, olive and canola), almond butter, natural vegetable flavors. Regular $8.00, Club price $6.50
Interested in the special pricing on these treats? Become a Treat of the Month Club member- it's free! Just email us or mention it with your next order to sign up. Each month that you receive a delivery, the featured treat will automatically be added to your order. You'll save a minimum of 10% each time, and treats are no more than $6.50.