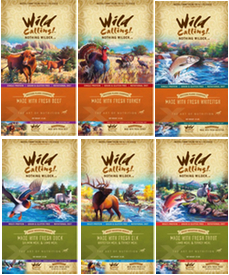 Many of our clients who had formerly been using Orijen and Acana formulas have chosen to feed a grain- free offering from Tuscan Naturals, Canidae, Petcurean or Wellness.
Now there's another alternative to consider, which offers an attractive variety of options.
Wild Calling, known for its excellent canned food line (available as a Woofstock feature), has introduced its new dry formulas. Designed to offer a good variety of protein sources, the line includes 3 single source meat formulas, along with 3 mixed protein formulas.
The single source meat foods include Beef, Turkey and Whitefish. The mixed protein foods are:
Elk, Whitefish and Turkey
Duck, Salmon and Lamb
Trout, Lamb and Turkey
These foods are priced a bit lower than Orijen and Acana. They contain 89% meat protein in contrast to the lower 80% of Orijen. Each grain-free formula uses a fresh meat as its first ingredient, followed by meal ingredients and sweet potato.
Samples are available, if you are interested in a taste test. Or look for these to be included as a pre-booking option during Woofstock. Larger sizes are also available- just ask!
If you'd like to know the interesting story about the man behind Wild Calling it can be found here.