The Whole Dog Journal is now available at a discounted single copy price from Smiley Dog!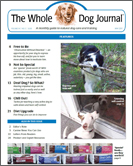 Have you been curious about Whole Dog Journal? Would you like to see more of the type of objective, advertising-free reviews and information it provides? Just ask to add an issue to your next delivery.
We've long been fans of The Whole Dog Journal, since they began publishing in 1998. WDJ articles are written by experts in the field, rather than marketing representatives. Because they accept no advertising, their articles are much more objective than you'll find in other publications. They name names and don't hold back when a product does not perform as advertised.
Their articles include perspectives on different training approaches, toys, supplies and natural remedies, foods, supplements. Their annual Dog Food issue reviews hundreds of products and lists which ones meet their standards. Our recommendations often mirror WDJ, as we focus on the same criteria when choosing foods.
The April issue was one of the best we've seen to date. It included excellent articles on allergies, elimination diets, alternatives to corticosteroids, and getting a second opinion prior to surgery.
This month's issue features stories on "Specialty" dog foods (are they worth it?), observation in dog training, upgrading your dog's diet, calming your dog and more. Try a single copy for $5.00.