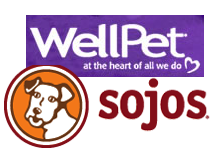 Sojos, one of the leading manufacturers of freeze-dried raw pet food formulas, has been acquired by WellPet.
Sojos began manufacturing its dehydrated formula in 1985 under the brand name of Sojourner Farms. Since then it has introduced additional dog and cat food formulas, as well as a line of treats.
WellPet is the manufacturer of the Wellness, Old Mother Hubbard, Eagle Pack and Holistic Select line of pet products. Wellpet was formed in 2009 when the Eagle and Old Mother Hubbard brands were merged under the ownership of Berwind Corporation.
Berwind is a family-owned investment management company with headquarters in Philadelphia.
No changes in formula are planned for Sojos
Sojos food and treats will continue to be made in the company-owned plant in Minneapolis. Ward and Maggie Johnson will remain involved in the daily operations of the brand.
According to Ward, "Our dream has always been to fundamentally change the way that people feed their pets and with WellPet we believe Sojos is in an even better position to make that dream a reality."
You can read the official press release announcing the purchase of Sojos by WellPet on the company's website.