Less than 1% qualify.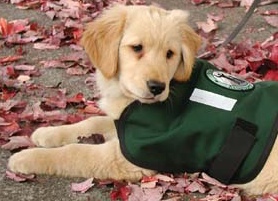 The waiting list is long and the requirement strict.
Might this be that elite group of ultra-prosperous individuals that's been in the news recently? Not at all. These are the dogs who qualify to become members of that unique pack known as assistance dogs.
They're furry and rare
The Puget Sound area is the home for Summit Assistance Dogs, a non-profit organization based in Anacortes. We were first introduced to Summit by Melissa, one of our honored clients, who volunteers with them. This led to a fortunate opportunity to chat with Sue Meinzinger, the Founder and Executive Director.
Summit has been training and placing assistance dogs since 2000
Based in Anacortes, the non-profit organization trains and places mobility, hearing and therapy dogs. They are currently in their second year of an innovative prison program which uses inmates to train rescue dogs. A program to address veterans suffering from PTSD is also in the works. Both of these programs complement the service and therapy dogs placed each year by the organization.
Summit works with both shelters and breeders to find their candidates for training. Finding appropriate shelter dogs is not always practical because of age, temperament or behavioral issues. With resources to currently work with up to 15 dogs per year, a carefully selected breeder may be used to provide puppies of mixed or specific breed. Any puppies that do not qualify for training are placed in lifetime homes through Petfinder.com.
All Summit dogs begin with basic socialization and training exercises
This initial training can last up to two years, and is done in foster homes and the prison program. Less than 1 in 10 dogs that complete this regimen will show enough promise to continue on with more advanced service training. Each dog's personality is evaluated so it can be well matched for specific tasks, or a particular type of need. Individuals requesting dogs can be placed on a waiting list for up to five years with no guarantee of receiving a dog.
Summit does not have a set fee for receiving a dog, and will attempt to place a dog with anyone who demonstrates need. Their application procedure includes guidelines for evaluation, financing, probationary period, followup and annual recertification. Those fortunate enough to receive a Summit dog are expected to be responsible for covering the costs of care once the dog is placed.
Learn more from the website
Summit has a small staff of 7 and relies heavily on its volunteers and community donations. We're fortunate to have this organization working to increase the independence and emotional well-being of those who can benefit from assistance dogs.
More information can be found on the Summit website.