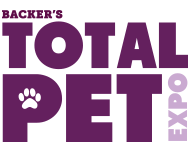 In addition to playing with new toys and treats, Trade Shows offer educational opportunities. One of the most interesting seminars on this trip was conducted by Krista Wickens, founder and owner of DogTread.
Krista spoke about the canine obesity epidemic and pet health from the perspective of canine fitness. One tidbit she offered came from a study which examined the link between diet and exercise. In this study of overweight dogs, the results were surprising:
1% of  dogs showed weight loss when exercise was added to their routine
10% of dogs showed weight loss when their diet was adjusted
70% of dogs showed weight loss with a combination of exercise and diet adjustments
Some of the fitness exercises used in the study can easily be adapted for use at home. There's no need for expensive exercise equipment, although specialized equipment is available. A local fitness program is offered through Works With Dogs in Edmonds, and a self-starting program is available at PetsMove.org.
Another healthy pet product at the Show was the PetSecure System
This is a dead simple, inexpensive tethering system for your dog which works in any 2003 or newer car. The system consists of two simple clip on strap components. It's an easy to use, inexpensive, car restraint system from a company in Elma, WA.
The first piece clips to the supports on your seat which are designed for use with car seats. The second strap attaches to the first, and clips to your dog's harness. The PetSecure System is expected to be available within 2 months. A pickup truck bed tethering system from this company has been on the market for the past 2 years. No photos available just yet, but you can get a sense of its simplicity here.
Poking around for Poop Bags

Ever since Bags on Board changed their manufacturing process and design, we've been hunting for a good alternative. Earth Rated Poop bags may just be that product.
These biodegradable bags have a light lavender scent. We're not ordinarily a fan of scented products, but this natural scent is not overwhelming and works quite well to offset the aroma wafting back from a "full" bag. The bags come 15 per roll, and fit nicely inside their own inexpensive dispenser which can attach to any leash. Refill bags come in packages of 8 roll, 15 bags per roll.
Fluff and Tuff plush toys
These toys appear to be among the softest and toughest plush toys we've found in quite some time. On display in their booth were not just samples of their amusing designs, but a stripped down toy which showed the material and construction that's hidden underneath the attractive plush covering.
Above, you can see the innards of Edsel the Elephant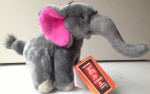 And here she is in all her glory
Fluff and Tuff donates a portion of every sale to Leader Dogs for the Blind. We invite you to visit their website and poke around. Let us know if you see a shape you can't can't resist, and we'll be happy to make it appear at your door!
GooFurr is an alternate way to administer meds to your pet
Originally intended as an easy way to give pills to your cat, this natural and tasty paste is effective for dogs as well. Included in the box is an applicator stick. Simply crush your tablet, mix with a small amount of GooFurr, scoop it up with the stick, and it's ready to use.
The 3 oz. tube contains a paste made with smoked salmon and other natural ingredients. It can be used to administer tablets or capsules. For those extremely difficult cases, GooFurr sticks to fur, so it can be externally applied and licked clean.
Pet Keeper Secrets Pet Odor/Stain Remover
Do we really need another stain & odor remover? Perhaps not, unless it is significantly different from what's been around for quite some time.
This is a mineral based stain and odor remover which is extremely effective on both stains and odors. The demo at the show used an ammonia sample which was completely neutralized after quick application. It can also be used as an airborne odor remover for cooking, smoke and mildew odors.
PKS Stain & Odor remover is an unscented, powdered product which comes in a trigger spray bottle. Simply mix with water, and it is ready for immediate use. This saves on shipping costs, and refills are available in 2 or 4 packs. The cleaner is hypo-allergenic and will not leave any residue on surfaces.
Tick Key
We're fortunate not to have an ongoing problem with ticks in this area. Unless, of course, you like to hike with your dog. In that case, you're most likely aware of the danger of ticks.
The Tick Key is an inexpensive and highly effective way to remove ticks. It eliminates the risk of leaving part of the parasite attached to your dog during removal, and keeps your hands from coming in contact with the insect as well.
Keep it in your pocket, attach it to your key ring, or simply clip it on to your dog's collar!
Read Part One of the Trade Show Report here.