Another SuperZoo has come and gone. Despite being held one month earlier than previous years, each day saw triple digit temperatures which were ignored by attendees inside comfortably air-conditioned halls during show hours.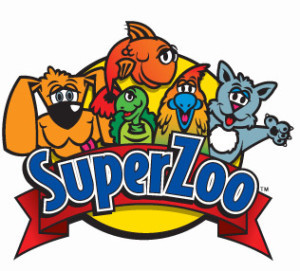 This year's show saw the addition of another exhibition hall, making it the largest SuperZoo to date (again). With just under 1200 exhibitors, the show floor took close to 5 hours to cover with a leisurely walk-through without stopping to collect information or chat.
The "service dog" population walking the floor grew once again, sporting an impressive number of trendy service dog vest designs. One other notable change was the large number of booths offering CBD products. These included treats, oils, supplements, capsules, creams and even water infused with nano-sized CBD particles.
There were a fair number of new and reformulated foods being introduced which included a few standouts
One of the more unique food offerings was Ketona, from KetoNatural, a company based in Salt Lake City. Ketona was formulated to address the pet obesity epidemic in the US. With a carbohydrate content of just under 8%, Ketona is now the lowest carb dry pet food available.
Daniel Schulof, a formulator of Ketona and co-founder of KetoNatural, has written a book- "Dogs, Dog Food and Dogma"- which documents the reasoning and science behind the new formulation.  The company has done an excellent job on their website which offers visitors a wealth of nutritional information once you've signed up for a free account at KetoNatural Academy. The book is also available to account holders as a free download.
Two other dry foods of interest were from Crumps Naturals and Honest Kitchen. Crumps is now offering their Gutsy formula, made with limited ingredient whole foods to promote active and improved intestinal and immune health. Honest Kitchen introduced its new Clusters, which they are billing as "the world's first 100% human grade un-kibble." Clusters are expected to be available later this year in 1, 5 and 20 lb boxes of Beef, Chicken or Turkey formulas. Gutsy is available now in 1.5 and 6.6 lb boxes in either Salmon or Chicken formulas.
Nulo, another food which has focused its formulations on reducing pet obesity, also had some new formulations on display.
Precise Pet, now part of ANF Foods, announced a launch of redesigned bags for both its Naturals and Holistic Complete line for later this year. New formulations and packaging are coming as part of the Holistic line, including recyclable single serve interior pouches with some formulas.
The majority of other foods displayed were familiar sights, some with newly redesigned packaging. There was also an interesting seminar exploring the use of insect protein in foods, none of which are sold in the USA just yet.
There are now some insect-based treats on the market
Last year we enjoyed tasting a cricket treat on display and have eagerly awaited its availability. Unfortunately, that treat did not reappear at this year's show, but our cricket tasting options have expanded. Two new cricket based treats- Jiminy's and Chirpies– are now available. Both are quite tasty, with each having their own distinct flavor. Yes, of course I tasted them- need you ask? Look for each to become available for delivery shortly.
Coco Rings, from our friends at Himalayan Pet Supply in Mukilteo, was another treat that caught our eye. These are simply freshly dried coconut rings with a dash of lime juice. Look for these to be available to order by the end of the month.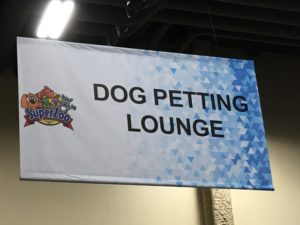 The final treat that caught our eye was from the Smart Cookie Barkery in Denver. Some of their Prima Dogna Skin & Coat biscuits are headed our way and expected to arrive by mid-July.
An interesting diversion this year was a new section that didn't get much advance publicity. Tucked away in a back corner of the show floor was the Dog Petting Area. Offering a much needed despite from the bustle of booths, the Dog Petting Area gave attendees the opportunity to recharge with a short or long floor session of simply… petting a few very friendly and mellow mutts.
One of the supplement standouts on display was BioResiliant, a new product from In Clover. BioResiliant is a seasonal allergy fighting supplement made primarily from whole foods including sweet potato, coconut, mangosteen,  turkey tail, and anise. BioResiliant is expected to arrive by the end of the month.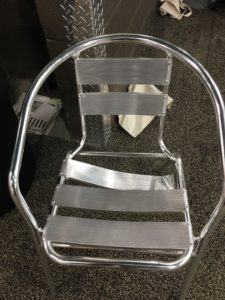 Another expanded addition to this year's show was the High-Tech section of toys and supplies. Showcasing everything from GPS tracking, automatic feeders, a bed that reports medical data and internet controlled toys, the electronic options in the industry continue to grow exponentially.
It seems that not everything went as smoothly as planned
While I missed what must have been an exciting and potentially painful moment for those in attendance, the evidence of an unfortunate accident was left in a corner at the side of an aisle.
There was the usual collection of booths inhabited by bored individuals glued to their phone screens, constantly grazing on the fried fare available in the show halls or abandoning their booth entirely.
At least they had a booth to abandon or use as a base for their boredom. It appeared that one unfortunate company's booth did not make it to the show at all. Apparently, the incorrect booth was shipped, so they missed the show entirely.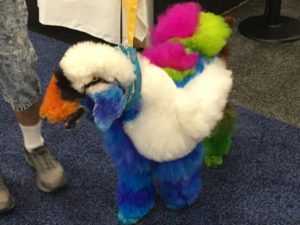 Towards the end of the final day, a small number of vendors seemed to become increasingly aggressive at intercepting the passing crowd and forcing marketing materials into their hands. The majority of these unwanted papers formed a growing pile on order writing tables or found their way directly into the trash. It was disappointing to only see recycle bins outside of the show floor.
And of course, this year's show floor sported its share of the obligatory pink and purple poodles, with an occasional tie-dye dog making the rounds as well. That wasn't the only non-business related fun to be had.
The first night's Industry Networking Party was skipped in exchange for a good night's sleep
The second night brought a wonderful concert from Kenny Loggins performing at the House of Blues, marred only by seatmates more interested in talking, texting, hopping back and forth between friends and filming throughout the entire performance.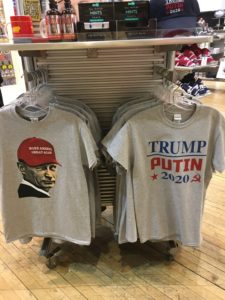 A couple of interesting T-Shirt offerings brought smiles from a shop window display on the trek back from the concert, although neither were spotted on the street. After all orders were placed on the final day of the show, it was time to venture forth into the summer heat. The discomfort of the short trip down the Strip was easily left behind after a performance of Cirque du Soleil's Beatles Love.
Another whirlwind trip to the desert concluded, watch for some of these new arrivals to begin trickling in over the next few weeks. As they arrive, they'll be announced on the website and perhaps some will be featured in the coming months!