Here's your sneak peek into this year's SuperZoo, the annual Pet Industry Trade Show in Las Vegas.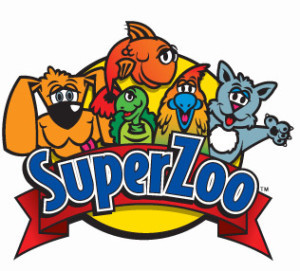 Over the years a pattern seems to have developed when attending SuperZoo. The primary goal is to make it through the entire floor, with a particular emphasis on new products. This can usually be done on Day 1 by sticking to a very strict no stopping/ dialog policy as things of interest appear.
Fortunately, at SuperZoo, their mobile app has improved to the point that it has replaced a spiral notepad and pen. The app allows for steady progress through the floor while noting booths of interest that merit a return visit. These notes, combined with literature gathered during the "first pass" provide up to 4 hours of review work at the end of Day 1 in preparation for an efficient Day 2.
A good portion of Day 2 is usually taken up in educational or business seminars
This year's seminars were geared towards Facebook, The Immune System, and online/ big box competition. Surprisingly, there were no nutrition sessions this year.
Once finally free from the seminars, the remaining time is spent methodically working through the prior night's list. Since we hadn't received many research requests this year from clients, one priority was to gather information on the growing number of CBD products appearing on the market.
It's been a while since a research project yielded such a variety of philosophies
I had expected to find a small handful of companies offering CBD products. Instead, it turned out there were more than a dozen. If you'd like a distillation of what to look for when choosing a CBD supplement, watch for the CBD blog post on the website in August. It will be included in next month's newsletter as well.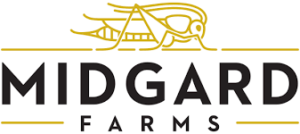 Another emerging trend that appeared was the use of insect protein in food and treats. My track record of tasting at least one new food or treat at the show remains intact with a sampling of Midgard Farms Cricket Meal treats. I can honestly say they were the best tasting crickets I've ever eaten. The other 2 companies which had cricket treats were not offering samples. Midgard Farms treats are not yet available, but we hope to see them hopping in very soon.
Another trend this year appeared to be an exponential increase in the number of dogs sporting Service Animal vests. I don't think it was related to a booth devoted to selling both stock and custom service animal vests. I also don't think it was related to an increase in the number of certified service dogs.
Back to the CBD hunt
Part of the CBD research was a conversation with Dr. Karen Becker. Dr. Becker has been instrumental over the years in spreading the word about the health benefits of proper feeding. She was an early proponent of integrating diet as part of her veterinary practice. She and her Mom developed Becker's Bites, a single ingredient treat which has been heartily recommended by The Whole Dog Journal.
On a side note, while waiting for Dr Becker to become available, I had the opportunity to meet Kimberly Gauthier, the blogger behind Keep The Tail Wagging. Kim is based in Marysville, WA. We've been following Kimberly's blog for awhile and she's one of the few who makes an honest effort to present factual information to her readers and does reasonable testing of products before recommending them. For those of you who follow Dogs Naturally magazine, you'll be pleased to know Randy Habib was also hanging around Dr Becker's booth. Time did not allow a conversation with him.
The conversation with Dr Becker came towards the end of the day, after already speaking to most of the CBD vendors on the floor. There was still one question that I felt had not be addressed adequately. During the conversation with Dr Becker, the missing pieces of that answer finally came together. As a result, we picked up one vendor's CBD oil to begin testing. This was just one of the new and intriguing items at the show.
This year we're trying a different approach with new products
In the past, the show has been an opportunity to pick up some new products in hopes of introducing you to some or all of what we've found to be most interesting.  This year, you can review the information and let us know if anything is of interest. What follows are some of the items that caught our attention. Most of these can easily be ordered and we'll stay on top of the progress of the few that are not yet ready to ship.
This year, you can review the information and let us know if anything is of interest. What follows are some of the items that caught our attention. Most of these can easily be ordered and we'll stay on top of the progress of the few that are not yet ready to ship.
K9 Honey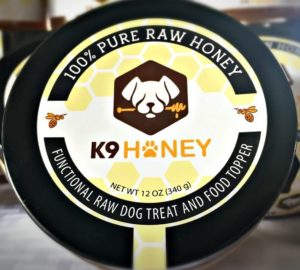 We know much about the health benefits of honey. Although honey is found in some pet treats, I've never thought of it really offering much health benefit as an ingredient.
Ah, but what about offering it as the ONLY ingredient? Have there been canine studies proving the benefits? In humans, yes, but not for dogs. On an instinctual level it certainly seems to make sense.
K9 Honey is owned and operated by Joe Harwell. Joe is a beekeeper in Tempe, Arizona. He's owned bees since 2015 and travels the west coast bringing his bees to work seasonal crops.
K9 Honey is harvested in 4 separate regional areas. This brings the specific nutritional benefits of the region to each area's product. The honey can be used with food or as a treat. K9 Honey Website
Dale Edgar Calm K9 Wafers
We'll be testing these treats with interest. Dale Edgar Calm Wafers are flat, 3 inch square treats. Each treat is scored so it can be portioned according to your dog's size.
These offer another way to help calm your dog naturally in stressful situations. The company's owner uses these with her Senior dog to help her sleep when she gets confused at night. They can also help during thunderstorms or fireworks noise.
Dale Edgar Calm K9 Wafers contain Ginger and Chamomile, along with Apple Cider Vinegar, Banana Puree, Chia Seed and Honey. Dale Edgar website
Open Farm dehydrated foods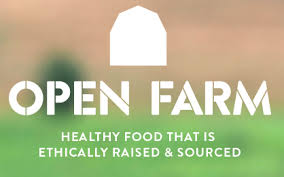 Open Farm food came on the scene a few years ago. It gathered initial attention because of its company philosophy of humane and sustainable farming and organic, non-GMO ingredients.
Their product line will soon include a line of dehydrated options based on their existing dry foods. Their dry foods include limited ingredient, grain free Whitefish & Lentil, Turkey & Chicken, Pork & Root Vegetable, Lamb or Salmon. Cat formulas include Turkey & Chicken and Whitefish recipes.
You can find more info on the Open Farm website. And watch for a special Open Farm savings offer coming next month!