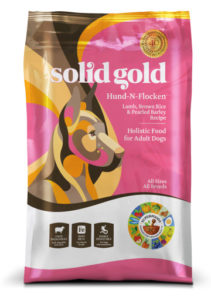 We were surprised to receive some unfamiliar rose-colored bags on our most recent Solid Gold orders. Expecting the newly familiar gold-colored Hund-N-Flocken bag, these appeared to be a mistake from our supplier.
A closer look revealed that the proper formula had been shipped, but the bag design had changed once again.
Last year, Solid Gold introduced updated bag designs across the entire line. The formula names remained the same, and minor changes were made to some formulas.
The next bag of Hundenfloken you receive will reflect this new bag design. Some minor formula changes are also reflected on the new ingredient panel.
The Guaranteed Analysis remains unchanged. The new bags no longer include pumpkin, have the order of some previous ingredients rearranged and now include a bit of lettuce. You'll need to scan down past the Salmon Oil and Taurine before finding these changes.
Here is a comparison of the ingredients prior to vitamin/ mineral listings from the former gold bag and the new rose bag:
Former:


Lamb, Lamb Meal, Brown Rice, Pearled Barley, Oatmeal, Peas, Rice Bran, Ocean Fish Meal, Canola Oil (preserved with mixed Tocopherols), Dried Eggs, Natural Flavors, Flaxseed, Tomato Pomace, DL-Methionine, Choline Chloride, Potassium Chloride, Salmon Oil (preserved with mixed Tocopherols), Taurine, Dried Chicory Root, L-Carnitine, Carrots, Pumpkin, Apples, Cranberries, Blueberries, Broccoli, Parsley, Spearmint, Almond Oil (preserved with mixed Tocopherols), Sesame Oil (preserved with mixed Tocopherols), Yucca Schidigera Extract, Dried Kelp, Thyme, Lentils…
Current: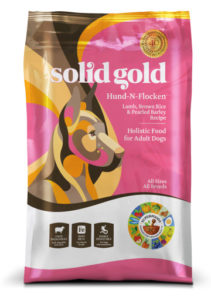 Lamb, Lamb Meal, Brown Rice, Pearled Barley, Oatmeal, Peas, Rice Bran, Ocean Fish Meal, Canola Oil (preserved with Mixed Tocopherols), Dried Eggs, Natural Flavors, Flaxseed, Tomato Pomace, DL-Methionine, Choline Chloride, Potassium Chloride, Salmon Oil (preserved with Mixed Tocopherols), Taurine, L-Carnitine, Carrots, Parsley, Apples, Cranberries, Blueberries, Lettuce, Celery, Beets, Watercress, Spinach, Dried Chicory Root, Broccoli, Spearmint, Almond Oil (preserved with Mixed Tocopherols), Sesame Oil (preserved with Mixed Tocopherols), Yucca Schidigera Extract, Dried Kelp, Thyme, Lentils…