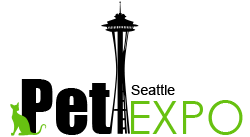 You're invited to stop by the Seattle Pet Expo, Saturday June 20 from 10am- 6pm at the WA State Convention Center. Admission is free, and pets are welcome.
The Pet Expo has expanded from last year's event which was held at the Seattle Center.
This year, more space is available in the climate-controlled Convention Center. You'll find vendor booths, an activity stage, drawings, contests, education presentations and much more.
Smiley Dog will have a small booth at the show, so make plans to stop by and say hello. You'll have the opportunity to spin the Prize Wheel for goodies and gifts worth up to $25 with any order placed at the show. You can also pick up an autographed copy of The Dog Food Detective for yourself or a friend.
More information is available at the Seattle Pet Expo website or Facebook page.