Your Special Offer |  News |  Features of the Month |  New Products |  Treat of the Month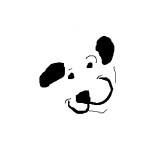 Greetings-
Yes, it's finally Spring! We're gearing up for another summer of shows and sniffing around for some new and interesting items to offer for your consideration.
What would YOU like for a referral?
As you most likely know, Smiley Dog has been built primarily on the referrals of loyal clients such as yourself. While we always appreciate (and reward!) your referrals, we'd like to do a bit more.
Tell us what you think would help you spread the word about the Smiley Dog Experience to your friends. Is it a discount? A free gift? Something for your friend? Special offer handouts? Subscription to Whole Dog Journal? A rescue donation in your name? A Juke Dock for your iPod? A trip to Disneyland? Let us know your ideas and help us to continue to improve our service for you.
Urban Chickens?
Are you a backyard Chicken Farmer? Did you know we can deliver Organic or conventional Chicken Feed? Need some cracked corn? Just ask!
Save 5% on your first Shopping Cart order placed this month.
In honor of our official shopping cart launch, the first order you place using the cart this month will be discounted by 5% when you enter the Coupon Code eMuse.
Simply enter eMuse when viewing your cart anytime prior to checking out and the discount will be automatically applied.
Our Shopping Cart is rolling!
We're thrilled to finally announce the official addition and launch of our Shopping Cart this month. We've tried to incorporate as many of your comments and suggestions in the layout of the cart, and hope you find it easier than our previous product listings.
You are welcome to continue to place orders however you choose- by phone, email, Secure Form, or using the new shopping cart. This enhancement is in addition to, not a replacement for, any of the methods you've come to know and love.
If you discover problems, or have suggestions for improvements with the cart, please let us know!
A new way to $ave
We expect our Shopping Cart will give you a new, quick way to take advantage of our ever-changing closeout selection, The Boneyard.
Simply enter "boneyard" in the shopping cart search field, and you'll instantly see what is being offered at very special pricing. These items are either closeouts, recently outdated, or discontinued/ redesigned products available at up to 50% off.
Smiley Dog Yellow- a history of sorts
Since 1992, we've used Yellow as our company color. Couldn't tell you why, but it just felt right and looked. . . happy.
We recently came across mention of a Canine Color Vision study, done at the University of California, which is widely regarded as the definitive position on dogs and color spectrum. This turned up as we were researching some new toys from Katie's Bumpers.
And what does it show (among other things)? Dogs see Yellow! We feel validated for doggedly sticking to our color choice all these years.
That's just a small portion of the findings, but it shed some light on the common belief that dogs are color blind. Dogs can distinguish some color, but not all colors are visible to them. Dogs have 2 sets of color receptors (Yellow and Blue), so colors outside of this spectrum would be seen as grey.
Don't you feel better now?
DERMagic All Natural Skin Care- save 10%
Save 10% this month on any of the DERMagic line currently in stock. Includes Skin Rescue Lotion, Hot Spot Salve, Tea Tree/ Peppermint Shampoo and Shampoo bars.
Save 10% on Premier Collar or Leashes. Buy both- Get a surprise toy!
Now that the weather is changing, why not replace that collar or leash that has seen better days? Choose from any of our Premier collars and Leads in stock.
Purchase a new Premier collar and save 10%. Purchase a Premier collar and leash and we'll include a surprise toy along with your 10% discount!
Dogswell Canned food- buy one, get one FREE
We have a limited supply of Dogswell cans with their old label. When they're gone, they're gone! Choose from Vitality Lamb, Happy Hips Lamb and Happy Hips Duck. Mix or match while they last! $2.50 each.
Raw Advantage- old packaging closeout
Last year, Raw Advantage got its organic certification and changed labeling to reflect this. We have a limited supply of some formulas with the old packaging remaining. Grab it at a very special price while it lasts!
Choose from Turkey Dinner, Beef & Veggie or Beef.
DERMagic Skin Care Products
We're pleased to announce that DERMagic Skin Care products are now available through Smiley Dog! Would you like a sample? Just ask and we'll include it with your next delivery.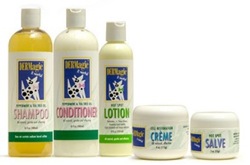 Some of you may have visited with Dr. Adelia Ritchie, the founder and formulator of this innovative and natural line of effective products, at Woofstock 2009. Some of the DERMagic products were available at the event.
We are now stocking some of the most popular products in the DERMAgic line, including Skin Rescue Lotion, Hot Spot Salve, Organic Tea Tree/ Peppermint Shampoo and Shampoo bars. The remainder of the line is available by special order. Read more about this great line here.
Merrick Flossie treats
We've had enough requests that we're bringing in these natural chew treats this month. We expect them to be available by May 6. These spiral shaped beef tendon chews come in 2 sizes. Jumbo Flossies ($5.75) are 10- 11 inches long. Phat Flossies ($7.25) are extra wide, 10-11 inches. High in protein, low in fat, the spiral shape helps clean dog's teeth.
PureVita Skin & Coat Treats
These natural, bite sized treats are formulated to support healthy skin and a delightful taste. 4 oz. package Reg. $6.00, Club price $5.00

Ingredients: Salmon, water sufficient for processing, barley flour, barley, oat flour, rice, pregelatinized tapioca starch, gelatin, glycerin, salmon oil, brewers yeast, lecithin, salt, smoke flavor, phosphoric acid, potassium sorbate, whey, ascorbic acid (vitamin C), vitamin E supplement, zinc proteinate, acai berry, pomegranate extract, natural flavor, preserved with mixed tocopherols.