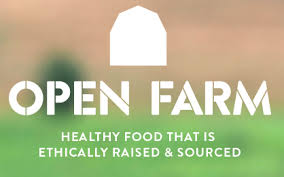 Open Farm came on the scene in 2013 as the first humanely sourced, ethically raised pet foods available.
Based in Toronto, Canada, the meats used in their products are certified humane by independent auditors from Humane Farm Animal Care. The fish used in their foods is ocean caught using sustainable fishing practices in accordance with Ocean Wise and Seafood Watch standards.
The company prides itself on transparency as well. The Open Farm website  includes a page showing the source of all its ingredients, including vitamins and minerals. You can enter the lot code for each bag produced to see a listing of ingredient sources.
What does it mean to be certified humane?
To meet Humane Farm Animal Care standards, animals must be raised differently than in factory farms. Factory farms currently produce the majority of meats used in the production of commercial pet foods.
Certified Humane standards have published guidelines for raising bison, chickens, cows, goats, pigs, sheep, and turkey.
These standards prohibit the common use of antibiotics as a preventative measure, mandate strict requirements for the amount of space available for feeding and grazing, prohibit beak trimming of chickens and tail docking of pigs, and require a minimum 6 hour sleep time for poultry.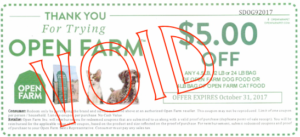 Save $5 on Open Farm through October 2017
During September and October, Smiley Dog is making a very special offer available to anyone interested in trying these foods.
Ask for a free sample of Open Farm Turkey & Chicken or Whitefish cat or dog food with your delivery. Your sample package will include a $5 coupon, good towards a future purchase of any size Open Farm formula.
The full line of open Farm formulas include Turkey & Chicken, Whitefish & Green Lentil, Pork & Root Vegetable, Wild Salmon and Lamb recipes for dogs. Cat food recipes include Turkey & Chicken and Whitefish formulas.
If you've been considering a food change, don't miss this opportunity to take advantage of some great savings on Open Farm foods!
Read more about Certified Humane, Ocean Wise and Seafood Watch standards on each website.