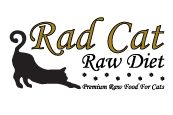 The manufacturer of Rad Cat Raw cat food recently announced they will be using High Pressure Pasteurization (HPP) when processing its poultry ingredients. This additional safety step is being taken in response to recent changes in food laws and the FDA's recent campaign to test a variety of raw pet foods.
In order to maintain the integrity of its foods, HPP will be used only on Rad Cat's poultry ingredients, and not the entire finished Chicken or Turkey formulas. The additional HPP step is intended to kill any potential bacteria contamination in the raw poultry prior to manufacturing its formulas.
There have been no Rad Cat recalls as a result of the increased FDA testing
HPP is being introduced to the poultry raw materials as an additional safety step to ensure salmonella, listeria, e coli or other pathogens are not introduced into formulas. This may result in a slight color difference of their Chicken and Turkey formulas.
There has been no change in the recipe or sourcing of Rad Cat's ingredients. Certified organic chicken and free-range turkey from the same suppliers continues to be used as usual.
Read more about the Rad Cat decision to use HPP on the manufacturer's website