We're pleased to announce the return of PureAyre Odor Remover as the latest "weapon" for your pet odor control needs.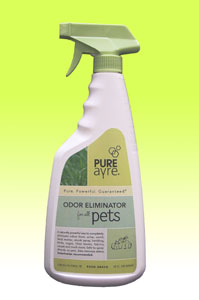 PureAyre is the only food- grade odor control product on the market. Why is that important? It is non-toxic, organic, and is approved for use in hospitals. It can be safely used on all surfaces, in the air or even applied topically to pets if desired.
PureAyre is a local product which eliminates any odor it contacts. Spraying the air eliminates lingering smoking odors, and it can be used in combination with any stain remover product which does not contain bleach. It's also effective around the house to attack odors from mold, mildew, decay and cooking.
PureAyre was one of the first odor removers sold at Smiley Dog. Availability became limited after our original supplier was purchased. We're happy to now  be able to offer this excellent product to you once again.
The 14 oz. spray is an ideal trial size of PureAyre. 22 oz and gallons are available by special request.