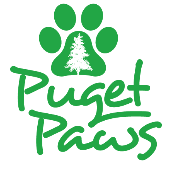 Puget Paws, a new private dog walking service based in Shoreline, is offering new clients a free introductory session to get acquainted with their services.
Heather May Izatt, owner of Puget Paws, has been a home health professional and worked as a dog walker for the past 10 years. She decided to launch her own business in 2016 and currently operates in Shoreline, Mountlake Terrace, Lake Forest Park, Lynnwood, Brier, Woodway and Edmonds.
Puget Paws services include dog walking and visits for a variety of pets. Walks and services are customized to each individual pets' needs. Additional dogs in the same household can be added for a small fee, and package discounts are offered for multiple walks/ visits.
Puget Paws is licensed, bonded, insured and a member of Pet Sitters Associates. Contact Heather to arrange a complementary meet and greet with your pet, and to schedule your free introductory walk.
Heather and Puget Paws can be reached at (425) 697-0513 or pugetpaws@gmail.com. More information is available on the Puget Paws website.