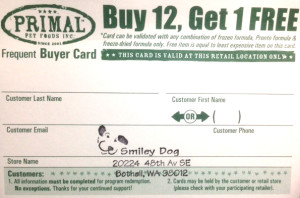 For quite some time, the Frequent Buyer Program from Primal Pet Foods has offered its loyal supporters $5 off after purchasing 12 bags of its frozen formulas.
Not any more!
The program has been updated to offer a FREE bag of food after the purchase of 12 bags of Primal frozen or freeze-dried formulas.
The purchases do not have to be of a single size or formula. Any frozen formula, Pronto formula or freeze-dried formula from Primal can be included on the card. The free product can be equal to the cost of the least expensive item included on the completed card.
If you're currently working on completing an older program card, you have nothing to worry about. Just finish up the card you've started. When you turn it in, you'll receive your $5 credit and one of the new and improved program cards.
Ask for your new Frequent Buyer card with your next delivery and start earning your free bag!