The new line of foods from Precise, Holistic Complete, will be introduced at Woofstock this weekend.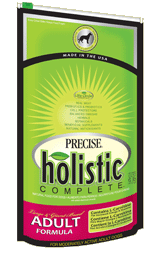 Stop by the Precise table for some samples and information about this interesting new dry line. We're particularly intrigued by the Senior formula, which has a higher fat and protein content than most other Senior kibbles.
Holistic Complete uses DHA Gold for healthy skin and coat, prebiotics, probiotics & herbals for digestive support, and botanicals for natural sources of vitamins and minerals. This makes for very digestible formulas which means less food fed, less clean up, and excellent value for the price.
Holistic Complete is available in Large breed Puppy, Large Breed Adult, Senior, Salmon, and Duck & Turkey dog formulas. It is also available in a Salmon formula for cats.
You can read more about Precise Holistic Complete on the manufacturer's website.