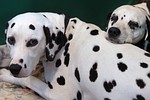 The call came in after hours from a family traveling through the Midwest. Could an emergency delivery be made for their dog who had unexpectedly run out of food while being boarded?
But not just any food would work here. Some very special conditions had to be met.
This was a Dalmatian dog with very specific dietary requirements. It was similar to a request that came in a few weeks ago from a former client who had recently brought a new dalmatian into his family.
He mentioned that his previous dalmatian had experienced problems with urinary crystals and infections. He was looking for a good food low in purine.
What are purines?
Purines are found in most foods. They are compounds that form uric acid when metabolized. In humans, a build up of uric acid can lead to gout. In dogs, specifically Dalmatians, a build up of uric acid can lead to crystals.
Purines are more concentrated in higher protein foods like meats, although certain fruits and veggies can also be high in purine. Meats have a wide range of purine levels, ranging from low to high.
When purine levels are a concern, it can be helpful to consult a reference chart. This can help steer you towards ingredients with moderate or lower levels of purine.
Internal organs are high in purine
Internal organs are sometimes found in high quality canned food and some raw diets. You'll recognize them by their specific names like liver, kidney, or heart. These organs, and other unidentified by-products can also be found in lower quality dry foods.
Muscle meats are lower in purine levels than internal organs. Different cuts of the same animal have varying levels of purine. Chicken breast contains approximately 175 mg while a chicken leg contains approx. 110 mg. and chicken liver has 243mg. These levels are low when compared to Calf's liver (460mg) pig liver (515mg) or brewer's yeast (1810mg). Theobromine, the component in chocolate which make it toxic for dogs, weighs in at 2300mg.
Dalmatians are particularly susceptible to purine problems
Dalmatians lack a certain enzyme which helps to break down uric acid which can lead to urinary and kidney problems. Other breeds are susceptible to similar issues but Dalmatians are the only breed lacking this enzyme .
When choosing an appropriate food, it's safer to consider ingredients with lower purine levels like chicken, turkey, duck and beef. Most fish and lamb will have higher purine levels than poultry.
What has worked for you?
Our recent Dalmatian inquiries ended up with two different solutions. Because the boarding dog also had an allergy to rice, he is now eating FirstMate Chicken & Blueberry along with Merrick Grammy's Pot Pie cans. The other is using Acana Wild Prairie.
If you've faced these issues with your dog, we'd like to hear what has, and has not, worked for you. It just may help some others navigate their purine problems!