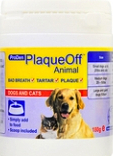 If you're like most pet parents, chances are you don't brush your pet's teeth as much as you'd like. While there are any number of dental chews, treats and aids available, many offer more promise than results.
PlaqueOff is one of the few pet dental products that delivers on its promise. It is simple to use, relatively inexpensive, and readily accepted by both dogs and cats.
PlaqueOff is made from a specific type of ground seaweed, harvested near Scandinavia. It contains no other ingredients. When digested, the active ingredient becomes part of your pet's saliva for continual application.  Unlike other dental products which require brushing or dosing, simply sprinkle PlaqueOff over your pet's food and you're done. The enclosed scoop makes daily portions easy.
It can take a few weeks or more before results are seen, depending on the condition of your pets teeth. Regular use will remove plaque, prevent tartar build up, and help improve breath. It's a simple and effective way to help maintain dental hygiene for your pet.
The taste is not overly strong, and brings memories of swimming in salt water. (Yes, okay, I'll admit to have tasted it. But I brush regularly and prefer that approach!)
A 60 gram container of PlaqueOff will last a 50 pound dog approximately 3 months.