For quite some time, Pinnacle was one of the few dry pet foods available which used quinoa in its formulations. While quinoa is a grain, it is rarely the source of a sensitivity or allergic reaction when used as an ingredient.
Pinnacle formulas list Quinoa Seed as their included ingredient. This still holds true now that the company has reformulated to only offer grain-free kibble.
Existing Pinnacle grain-free formulas have not changed
Both the Turkey and Salmon formulas from Pinnacle have been grain-free since they were introduced. Now the Pinnacle Chicken, Duck, and Trout foods join these as grain-free formulations.
The change comes with a redesigned bag and smaller bag sizes. Gone are the 7 pound and 30 pound bags, although some may still remain available for a short time. Instead, all Pinnacle grain-free formulas come in 4 pound, 12 pound or 24 pound bags. Expect the pricing for these smaller sizes to be slightly higher than the larger bags they replaced.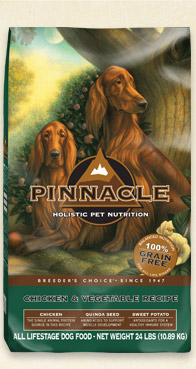 Two other changes stand out with the Pinnacle grain-free reformulation
In the grain-free Chicken and Duck formulas, potatoes have been replaced by sweet potatoes.  This may be a welcome change for some, but may introduce sensitivity issues for others.
In all grain-free formulas, the first ingredient is now a meat protein, followed in the second position by a meal ingredient. This allows the company to boast that meat is its first ingredient.
How will these changes affect you or your dog?
Find out by either trying a new formulation or reviewing the new ingredients to make sure they haven't introduced any known sensitivity issues for your pet.
The new formulas read well, and are similar in Guaranteed Analysis and Metabolizable Energy. Read on to see how the new compares to the old formulas.
Comparison of Original and Grain-Free Pinnacle Reformulations
All ingredients prior to vitamin/ mineral listings are included.
Original Pinnacle Chicken

Pinnacle Grain-Free Chicken

Chicken Meal

Chicken

Chicken

Chicken Meal

Oatmeal

Garbanzo Beans

Oat Flour

Peas

Dried Tomato Pomace

Pea Flour

Potatoes

Dried Potato Pomace

Chicken Fat

Chicken Fat

Alfalfa Meal

Sweet Potato

Natural Flavor

Flax Seed

Organic Quinoa Seed

Natural Flavor

Cottage Cheese

Carrots

Dried Egg Product

Bell Pepper

Dehydrated Carrots

Celery

Dehydrated Red Bell Peppers

Salt

Dehydrated Green Bell Peppers

Potassium Chloride

Dehydrated Broccoli

Quinoa Seed

Dehydrated Peas

Dried Egg Product

Dehydrated Celery

Dehydrated Spinach

Dehydrated Parsley
| | |
| --- | --- |
| Original Pinnacle Trout | Grain-Free Pinnacle Trout |
| Trout | Trout |
| Oatmeal | Garbanzo Beans |
| Herring Meal | Peas |
| Oat Flpour | Pea Flour |
| Canola Oil | Herring Meal |
| Sweet Potatoes | Sweet Potato |
| Calcium Carbonate | Dried Tomato Pomace |
| Flax Seed | Canola Oil |
| Lecithin | Natural Flavor |
| Dicalcium Phosphate | Flax Seed |
| Organic Quinoa Seed Meal | Organic Quinoa Seed |
| | Salt |
| | Potassium Chloride |
| | |
| --- | --- |
| Pinnacle Original Duck | Grain-Free Pinnacle Duck |
| Duck Meal | Duck |
| Duck | Duck Meal |
| Oatmeal | Garbanzo Beans |
| Oat Flour | Peas |
| Potatoes | Pea Flour |
| Tomato Pomace | Sweet Potato |
| Canola Oil | Dried Tomato Pomace |
| Alfalfa Meal | Canola Oil |
| Natural Flavor | Natural Flavor |
| Flax Seed | Flax Seed |
| Potassium Chloride | Quinoa Seed |
| Salt | Salt |
| Kelp Meal | Potassium Chloride |
| Organic Quinoa Seed Meal | |