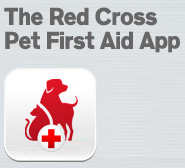 The American Red Cross has launched a new Pet First Aid app for iOS (iPhone) and Android devices.
The app is divided into sections for Dog and Cat. Within each section are some basic guidelines, along with an alphabetical listing of two dozen common situations requiring medical attention. Photos accompany many of the treatment instructions, and some include video clips.
The information provided is not comprehensive, but is a useful guide to help take a first step before deciding whether to contact a veterinarian. Just browsing through the app can be an interesting learning experience.
Allow the app to track your location (optional) and it can provide contact information to the closest veterinarian in case of an emergency. You also have the option to enter some basic info about your pet, including ID tag information, photos and a list of medications. A few simple quizzes can occupy your time in the waiting room as an alternative to Angry Birds.
Unfortunately, the app does not have a Search box. Even though you can quickly scroll through the short list of conditions it covers, a search box would be a welcome addition.
At $0.99, this app is well worth the price. You can find First Aid for Pets by the American Red Cross for iOS on iTunes and for Android devices at Google Play.
Read more about the app on the American Red Cross website.