Last year we stumbled across a fascinating company at the Holiday Trade Show in Chicago. It was a pleasure to reconnect with them at this year's SuperZoo.
Clear Conscience Pet, based in Wilton, CT, has developed an simple yet healthy line of natural treats with a philosophy to match. The company was founded in 2010, but the owners have been involved with natural pet products since 1991.
Towards the end of last year, their Beef Slider Stickz were featured as a Treat of the Month. If you missed them then, you'll have a chance to try their Chicken Slider TenderStickz very shortly. Unlike most soft & chewy treats, these individually packaged strips are made without glycerin, propylene glycol, syrups or sugar.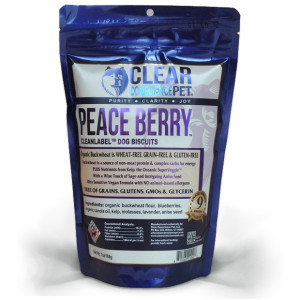 CCP has been working on a new packaging design, which was unveiled at SuperZoo. The new packaging is a simple resealable bag which offers details of each product's benefits in a simple and understandable way.
You'll have a chance to examine this later in the year with their Peace Berry biscuits. Peace Berry biscuits are made with Organic Buckwheat Flour, Organic Blueberries, Organic Canola Oil, Honey and Organic Lavender.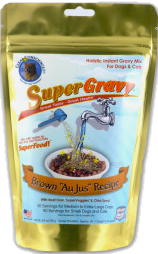 Their signature product is SuperGravy— a pet gravy mix which instantly improves both digestibility and the taste of dry pet food. Simply sprinkle the concentrated mix over your pet's dry food, then add a small amount of warm water. Mix for 30 seconds and stand back!
SuperGravy is made with humanely sourced organ meats, chia seed, organic veggies and more. Endorsed by veterinarians, SuperGravy is ideal for fussy eaters and can be an economical alternative to canned food. Ask for a sample of SuperGravy to be included with your next order!